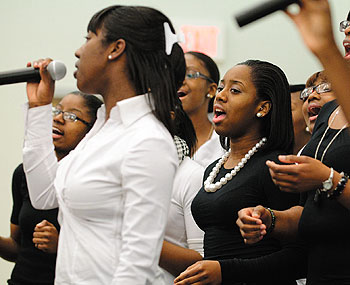 The Voices of Freedom choir performs at the Student Union Ballroom during the African American Cultural Center's 40th Anniversary event on Feb. 27. Photo by Peter Morenus
Photo Extra
The UConn Symphonic Band, conducted by music professor David Mills, performs at von der Mehden Recital Hall on March 3. Photo by Jessica Tommaselli
March 16, 2009 ¦ Volume 27, No. 23
Trustees approve tuition hike of 6 percent
The Board of Trustees voted last week to raise tuition by 6 percent to a total of $7,632 per year for an in-state undergraduate student and $23,232 for an out-of-state student. Read more...
Planned hospital partnership to hold economic benefits, study shows
An economic impact study issued by the Connecticut Center for Economic Analysis says the proposed partnership between the UConn Health Center and Hartford Hospital will result in a significant increase in new jobs, personal income, and tax revenue for the state. Read more...
Alumnus discusses search for truth about U.S.-Iraq war
When College of Liberal Arts and Sciences alumnus Charles Duelfer ('74 MA, history) was sent to Iraq in 2004 by President George W. Bush to find out why the administration had been wrong about Iraqi weapons of mass destruction, he was assured by his old friend George Tenet, CIA director, that they wanted "just the truth." Read more...
Board chairman to step down
Dr. John W. Rowe, chairman of the Board of Trustees for the past six years, announced on March 10 that he will step down in June. Read more...
More headlines...

Multimedia...

RSS Feed of the UConn Advance

News Links

UConn News | UConn Health Center News | UCONN Magazine Athletics News

How To...

Suggest a story idea: please send e-mail to advance@uconn.edu, with "Story Idea" in the subject line. Please give as much notice as possible, and at least two weeks. Requests will be considered based on relevance to a broad audience and the availability of resources.

Have an event listed in the Advance Calendar section: please enter it online at events.uconn.edu at least two weeks prior to the date of the event. Please note that the Advance Calendar contains only events occurring during the week beginning with the date of publication.

Request permission to re-use a story or photo: please send e-mail to advance@uconn.edu, with "Re-use Request" in the subject line.

Make a change to the mailing list, please send e-mail to advance@uconn.edu, with "mailing list update" in the subject line. Please note that the Advance does not maintain separate mailing lists, but uses the databases maintained by the human resources departments at Storrs and at the Health Center. If you do not have access to e-mail, please send your request in writing to Advance, University Communications, 34 North Eagleville Road, Storrs, CT 06269-3144, or by fax to 860-486-2063, or call 860-486-3530.