Former New York City Mayor and one-time Republican presidential candidate Rudolph Giuliani joined two fellow justice department alumni for an event, "40 Years Inside the Department of Justice," at the UConn Law School on March 5.
The event began with a brief talk by Giuliani, followed by a panel discussion featuring former U.S. Attorney for Connecticut and Associate Attorney General Kevin O'Connor '92; former justice department official Marc Mukasey; and Evan Flaschen '82, who served as the panel's moderator. All now work for Giuliani's law firm, Bracewell & Giuliani.
Prior to seeking elected office, Giuliani served as U.S. Attorney for the Southern District of New York, as well as Associate Attorney General and Assistant Deputy Attorney General under Presidents Reagan and Ford.
Giuliani noted that he had worked under or with every Attorney General since President Nixon.
Summing up the work of the department, Giuliani said, "Twenty percent [of Department of Justice responsibility] is investigating and prosecuting crime. The other 80 percent is being the law firm for the U.S. government."
He described the Attorney General's job as "the most complex" cabinet position. He said in recent decades presidents have preferred to break up their cabinet meetings – which usually entail more than a dozen heads of federal departments – into meetings of smaller subgroups. The one cabinet position that was included in every sub group was the Department of Justice, he said, because every other cabinet department needs legal advice.
The utility of the position, added Giuliani, rests on the Attorney General being able to give independent legal advice and be "the one who is able to say 'no' to the President."
All the speakers described their time in the justice department with pride.
Mukasey – whose father, Michael Mukasey, served as former President George W. Bush's final Attorney General – said that being able to walk into a courtroom and tell the jury he represented the United States of America made the hair on the back of his neck stand up.
"It's a job you don't take for the money," he said, "but it pays off in spades" in terms of the experience gained.
Marc Mukasey left the department before his father was nominated for the post of Attorney General.
The department has had its share of problems. O'Connor served as chief of staff to former Bush Attorney General Alberto Gonzalez, who presided over a department that famously saw politics creep into the hiring and firing process for personnel. The scandal occurred before O'Connor worked in Gonzalez's office.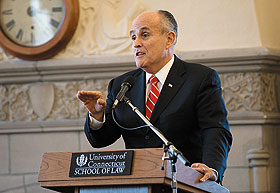 Former New York City Mayor Rudy Giuliani speaks at the Law School on March 5, as part of a panel discussion about the Department of Justice. Photo by Spencer A. Sloan
O'Connor said the department is inherently political, with roughly 300 political appointees. This was underscored in January, with the change of administration, when these appointees – himself included – lost their jobs.
"So there's [always] an element of politics," he said. Still, he said, the personnel problem was a serious one.
The justice department "screwed-up, frankly," O'Connor said.
He said that even though it was only a handful of people who blurred the line between federal duty and partisan politics, that didn't matter, because it "opened the door to questioning" the process and the motives of the entire department.
Part of the issue, he said, was that those who were responsible for the politicization had no experience in the department and had never been federal prosecutors.
"It was a huge problem," he said.
Another contentious topic was "water-boarding," a practice that simulates drowning and which many believe is a form of torture.
Giuliani said the definition of the term and the purposes for which it is being used are important.
He shared a question that was asked of him during a Republican presidential debate: If you were the President and a terrorist attack took place in a U.S. city and the authorities had in custody the person or persons responsible and it was known that three other attacks would take place, what would you do?
Giuliani said if he were in that position, he would tell the FBI or CIA to "do whatever is necessary" to get the information out of the suspect and "worry about consequences later."
In a separate, later discussion on ethics, Giuliani recounted some advice from a judge for whom he clerked early in his career: When trying to decide whether or not doing something is ethical, err on the side of caution.
"If you have to think about it too much," he recalled the judge saying, "don't do it."