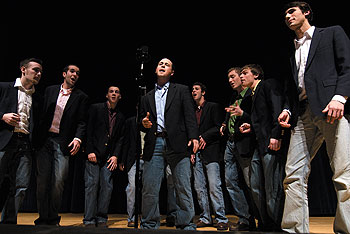 Members of UConn's a cappella group A Completely Different Note perform during 'Jingle Jam' in the Student Union Theatre on December 3. Photo by Frank Dahlmeyer
Photo Extra
A Victorian-style gingerbread house, created by staff of Dining Services, on display in South Dining Hall. Photo by Gail Merrill
December 8, 2008 ¦ Volume 27, No. 15
Publication Notice: This is the last issue of the Advance for the fall semester, 2008. We will resume publishing on Tuesday, Jan. 20.
Happy holidays!
Community offers cost-saving suggestions
Recycling wood chips as mulch, implementing a standard temperature in offices and classrooms, and levying a budget crisis surcharge were among the suggestions offered during a town meeting on potential cost savings, efficiencies, and revenue enhancements. Read more...
Winter graduation ceremony set for December 14 at Gampel
Denis M. McCarthy, retired chairman, CEO, and president of Fidelity Management Trust Co., a subsidiary of Fidelity Investments, will deliver the keynote address during Commencement on December 14. Read more...
Economics major awarded prestigious Marshall Scholarship
A senior economics major in the College of Liberal Arts and Sciences is one of 40 new Marshall Scholars named on Dec. 1 by the British government. Read more...
Ancient grave unearthed in Israel
A 12,000 year-old grave unearthed in the Middle East contains the remains of a woman who provides some of the world's earliest evidence of a religious practitioner, according to a recently published study by researchers from Israel and the University of Connecticut. Read more...
More headlines...

Multimedia...

RSS Feed of the UConn Advance

News Links

UConn News | UConn Health Center News | UCONN Magazine Athletics News

How To...

Suggest a story idea: please send e-mail to advance@uconn.edu, with "Story Idea" in the subject line. Please give as much notice as possible, and at least two weeks. Requests will be considered based on relevance to a broad audience and the availability of resources.

Have an event listed in the Advance Calendar section: please enter it online at events.uconn.edu at least two weeks prior to the date of the event. Please note that the Advance Calendar contains only events occurring during the week beginning with the date of publication.

Request permission to re-use a story or photo: please send e-mail to advance@uconn.edu, with "Re-use Request" in the subject line.

Make a change to the mailing list, please send e-mail to advance@uconn.edu, with "mailing list update" in the subject line. Please note that the Advance does not maintain separate mailing lists, but uses the databases maintained by the human resources departments at Storrs and at the Health Center. If you do not have access to e-mail, please send your request in writing to Advance, University Communications, 34 North Eagleville Road, Storrs, CT 06269-3144, or by fax to 860-486-2063, or call 860-486-3530.