The Bachelor of General Studies program has entered a new era.
UConn's 30-year-old BGS program this semester implemented a new format that requires all students to create an interdisciplinary major, falling broadly under one of seven approved themes.
"The model we've used in the past was based on an individualized major that required students to have a 'focus,' while the new program is based on an interdisciplinary major and curricular 'themes'," says Peter Diplock, director of the BGS program.
Diplock says the primary difference between focuses and themes is that themes offer students an opportunity to select from a broader array of existing UConn courses, while at the same time ensuring they come away with an interdisciplinary education by requiring them to select courses from multiple academic disciplines.
Breadth and depth
The move is consistent with a number of recent developments including an emphasis on interdisciplinary education in UConn's new academic plan and the increased value being placed by employers on interdisciplinary education.
"The new interdisciplinary major in the BGS program combines the best of both worlds," says Diplock.
"Students realize curriculum breadth through an interdisciplinary design, while being able to realize definition and depth through a tighter emphasis within a particular theme and through pursuit of various existing UConn minors."
Students admitted to the program prior to fall 2008 who have maintained continuous registration are still eligible to graduate with focuses reflected on their transcripts.
Students admitted this semester and beyond can select from a general interdisciplinary plan of study or seven curricular themes, which include Human Services, Social Science, Arts and Humanities, Society and Justice, Diversity and Multiculturalism, International, or Community and Public Engagement.
Non-traditional students
The program is the fourth largest degree program at UConn and enrolls about 1,000 students annually, primarily at UConn's regional campuses, most of whom are balancing school with work, and/or caring for children or a parent. Students range in age from 21 to 78.
"It's a journey of significance, of persistence," Diplock says.
"One student received a degree last year 20 years after he started college. Some have been away from school for 10 years; some took courses at five or six schools; others are following a spouse or serving in the military. What binds them is a passion for a quality educational experience."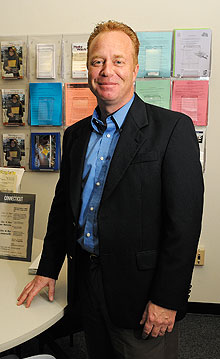 Peter Diplock, director of the Bachelor of General Studies program, in his office at the Bishop Center. Photo by Peter Morenus
The new curriculum, he says, will enhance that experience.
"The themes we now have will offer additional options to our students," says Joel Blatt, an associate professor of history at the Stamford Campus, who has taught hundreds of BGS students during the past three decades.
"This lets them obtain a good UConn education, gives them a little more flexibility, and adds options for the students."
Veronica Makowsky, vice provost for undergraduate education and regional campus administration, agrees.
"Interdisciplinarity is now a hot topic in academia and is central to UConn's recently approved academic plan," she says.
"Returning adult students are walking exemplars of interdisciplinarity because of their varied work experiences and educational backgrounds. The new interdisciplinary format for the BGS degree allows these returning adults to further widen their experiences, while organizing their studies according to a broad interdisciplinary theme.
"BGS is central to workforce development," she adds, "and the new BGS curriculum will help make experienced workers even stronger and more productive."
The average BGS student comes to UConn with a minimum of 60 earned credits or an associate's degree, and a GPA of nearly 3.0, says Diplock. But they bring much more to the table.
"They bring such rich context for other students in the classes," he says.
"They can talk about the nuances of organizational life, the reality of ethics in the workplace, and the challenges and opportunities of diversity, and serve as role models for other students in relation to balancing competing life commitments."