Denis M. McCarthy, retired chairman, CEO, and president of Fidelity Management Trust Co., a subsidiary of Fidelity Investments, will deliver the keynote address during Commencement on Dec. 14.
More than 800 students are expected to graduate during the University's sixth annual mid-term Commencement Exercises, which begin at 2 p.m. in Gampel Pavilion.
McCarthy, who earned a bachelor's degree in finance at UConn in 1964, and a master's degree in economics in 1965, is co-chair of UConn's current capital campaign and a member of the UConn Foundation Board of Directors. He chaired the board from 2000 to 2004.
He will receive an honorary doctor of humane letters degree during the December ceremony.
"I'm forever grateful for what a UConn education has meant in my life," says McCarthy. "In my younger days, UConn was there for me and gave me a great start on life."
More than 6,000 people are expected to attend the mid-year ceremony. The decision to add a December graduation in 2003 to complement the traditional May commencement was made against a backdrop of the increasing number of students graduating, which strained the ability of Gampel Pavilion – even with two undergraduate ceremonies – to hold them.
It also recognized that more students, due to work pressures, internships, study abroad programs, or for academic reasons, were completing their studies at the end of the fall semester.
Since then, an increasing number of students have taken advantage of the extra event. This year, 823 students are eligible to graduate during the Dec. 14 ceremony, more than half of whom will earn their degrees from the College of Liberal Arts and Sciences.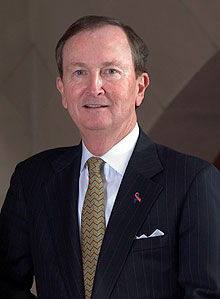 Denis McCarthy will speak at the December 14 Undergraduate Commencement. Photo supplied by UConn Foundation
McCarthy, who has a long history of philanthropy, served on the Foundation's Board of Directors from 1997 to 2007.
He rejoined the board in 2008.
He and his wife, Linda, are members of the 1881 Circle of the Founders Society, which honors donors whose cumulative gifts and pledges total between $1,000,000 and $4,999,999.
McCarthy was inducted into the School of Business Hall of Fame in 1996 and, in 2005, received the University Service Award from the UConn Alumni Association, given for exceptional contributions that strengthen and support the University's values and mission.
McCarthy joined Fidelity Investments, one of the world's leading providers of financial services, in 1989 as senior vice president and chief financial officer.
In 1995, he was appointed chairman, president, and chief executive officer of its subsidiary, Fidelity Management Trust Co.
Since retiring in 1998, he has remained on the firm's board of directors. He also serves on the board of Pyramis Global Advisors Trust Co.