The new dean of nursing, Anne R. Bavier, loves a challenge.
So when Bavier toured UConn as a dean candidate in spring 2007, she saw potential where others might have seen hardship.
To Bavier, the nursing school's aging infrastructure, large portable classroom, and relatively small endowment were an attraction.
"What I do is build programs and I build people," says Bavier, who joined the University in August 2007, replacing Dean Laura Cox Dzurec, who resigned in 2006.
"I think the most powerful thing I can do is grow more scholarly faculty here and bring them the resources and tools they need. Part of the tools the school needs is space to do our education well and to do our research well."
New construction
One of Bavier's first duties will be helping oversee the construction of a 10,000-square-foot addition to the school. Augustus Storrs Hall, where the School of Nursing is located, is one of the oldest buildings on campus and the University's first brick dormitory.
An architect for the proposed addition — to be called the Widmer Wing, after the School's first dean Carolyn Ladd Widmer — has just been selected: Tai Soo Kim Partners LLC. The new wing will include large classroom space, teaching laboratories, and a lounge for visitors and students to congregate.
While the new construction progresses, Bavier is focused on tackling other aspects of the strategic plan for the school, including attracting more faculty, raising standards for appointment on the tenure track (a post-doctorate fellowship will be required by 2013), pressing for more scholarly publications, and making sure faculty are properly recognized and rewarded for their work.
"What I am known for probably throughout my whole career is ratcheting everybody up," Bavier says. "I'm not a status quo person."
As dean of the School of Nursing at St. Xavier University in Chicago prior to coming to UConn, Bavier had a track record of getting things done.
In the three years she was at St. Xavier, Bavier brought the nursing school from a point of relative obscurity to being one of 10 in the country recognized as a center for excellence in nursing education by the National League for Nursing.
While at St. Xavier, she quadrupled faculty publications and scholarly presentations, increased the school's grant funding by 50 percent, and dramatically expanded funding for disadvantaged undergraduates.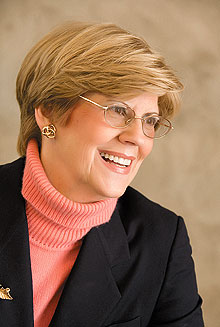 Anne Bavier, dean of nursing. Photo by Thomas Hurlbut
Raising funds
Bavier knows that growth and success come at a price. The UConn School of Nursing's current endowment is about $1 million and its scholarship base is about $135,000 a year for all students. Those numbers are low compared to other nursing schools of similar size.
One of her primary goals is to raise more than $10 million for the school in the next four years.
She's confident she can do it. At Emory University, where Bavier was assistant dean for planning and external relations prior to moving to St. Xavier, she was instrumental in securing the nursing school's largest single gift ever – $5 million – and funding for the first endowed professorship in nursing.
Bavier is also known for helping disadvantaged undergraduates. Nursing students at UConn can carry as much as $10,000 more debt than average university undergraduates, Bavier says, because the demands of their clinical hours often preclude them from holding outside jobs.
Under her leadership, the school recently applied for and received federal funding to assist economically disadvantaged students, a first for UConn's nursing school.
Scholars & clinicians
Bavier has brought in new full-time clinical and research faculty and reduced the number of adjunct faculty so that students will have greater access to professors.
The new hires include research and practice experts in gerontology, neonatal studies, and health services research, an expert in nursing history, and a statistician.
In recognition of the goals to increase both scholarly publications and grant submissions, she recruited an associate professor-in-residence with degrees in English and expertise in professional writing and medical humanities.
"We have a tradition of excellence in scholarship and we have been able to bring on board a wonderful new cadre of scholars and clinicians this year that are diverse in both their ethnic and racial background as well as their scholarly background," Bavier says.
"We are shaping the future of human health through preparation of future practitioners and scholars."