James Johnson, former dean of the School of Fine Arts, died Oct 8. He was 92.
Johnson, who lived in Damariscotta, Maine, came to UConn in 1972 as dean of fine arts and professor of art history. He served as dean until 1978, and continued to teach until his retirement in 1986.
David Woods, dean of the School of Fine Arts, praises Johnson's scholarship and devotion to his students. "He really appreciated the students," Woods says.
"Still active in his 80's, he'd attend the annual awards ceremony [the James R. Johnson Art History Award for outstanding undergraduate art history majors at UConn was established in 1986], and meet with the students. He was very passionate about that."
Woods also notes that Johnson built the foundation for the School through the curriculum.
Roger Crossgrove, emeritus professor of art, says Johnson was a "very disciplined and fair administrator. I enjoyed working with him."
Johnson is remembered as a gentleman, a scholar, and a great storyteller. He loved music and was a gifted pianist.
Originally from Pennsylvania, he graduated from Harvard College in 1941, and received his Ph.D. from Columbia University in 1960.
He served in the U.S. Army for four years during World War II, and later continued his studies at the Sorbonne, in France, where he photographed art and architecture.
In 1950, he accomplished a major project: He photographed the 12th-century stained glass windows of Chartres Cathedral in France by means of a 70-foot scaffold erected inside the cathedral.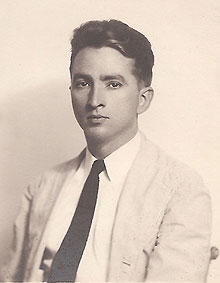 James R. Johnson, former Dean of the School of Fine Arts and professor of art history, died on Oct. 8. Photo supplied by the Johnson family
There, he was able to capture eye-level details of the famous windows.
The photographs became the focus of his doctoral dissertation at Columbia University, and of his book, The Radiance of Chartres.
After graduating, he was appointed assistant professor of art history at Western Reserve University in Ohio.
In 1958, he joined the Cleveland Museum of Art as associate curator of education, where he later became curator of art history and education.
Johnson was a member of the College Art Association, the Society of Architectural Historians, the Medieval Academy of America, and the Royal Society of Art in London.
He is survived by his wife, Ida, three sons, and three grandchildren.
Contributions may be made to the University of Connecticut Foundation Inc., 2390 Alumni Drive, Unit 3206, Storrs, CT 06269-3206.
On the memo line of the check, please write James R. Johnson Art History Award.