As school districts across the country struggle to find ways to improve academic performance, educational psychology professor James O'Neil says the emotional turmoil of boys in the classroom cannot be overlooked.
O'Neil has spent the past 25 years looking into the psychology of men. His research was recognized with a distinguished professional service award from Division 51 of the American Psychological Association during its annual convention in August.
One of the prominent elements of O'Neil's research involves male gender role conflict.
O'Neil believes this conflict – which arises when boys and men feel their conceptions of masculinity are at odds with the demands placed on them in their lives – can cause emotional and behavioral problems that hinder academic performance and sabotage personal relationships.
If left unaddressed, it also can lead to depression, anxiety, low self-esteem, substance abuse, violence toward others, and even suicide.
Traditionally, getting boys to open up and discuss their emotional well-being has not been easy, O'Neil says.
Some argue that gender role education is too complex and threatening for younger boys to understand. Sexist stereotypes that "boys will be boys" and dubious assumptions that gender role education promotes homosexuality also have been barriers to addressing male gender role issues, he adds.
Some critics believe the perceived 'boys crisis' that O'Neil and others are concerned about in America is overblown. A lack of knowledge and familiarity with male gender role issues on the part of educators and parents also has made it difficult to find appropriate responses to the problem, O'Neil says.
Support services for boys
In an upcoming article in the journal, Psychology in the Schools, O'Neil issues a call for action. He urges school districts to establish male student support programs to help assist boys in their development, similar to what was done for girls 20 years ago, with the creation of gender-based programs and women's centers on college campuses.
Hiring more male teachers, offering same-sex classes, developing mentoring programs, and creating safe and constructive programs for boys to talk about themselves and their feelings would help address some of the root causes of disciplinary and academic problems in public schools, he says.
"If a boy is angry and repressing his emotions, he can't learn, he can't relate, and he can't develop," O'Neil says.
There is no shortage of statistics to support O'Neil's point. Of the 35 school shootings in the United States during the past 15 years, all were committed by young boys.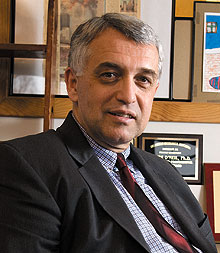 James O'Neil, professor of educational psychology. Photo by Frank Dahlmeyer
Five times as many 15 to 24-year-old boys commit suicide compared to girls, statistics from the Center for Disease Control show.
And twice as many 18 to 29-year-old males abuse alcohol as do females of the same age, and three times as many boys are expelled from public schools compared to girls, according to the National Center for Education Statistics.
Systematic research
O'Neil's particular expertise in gender role conflict led to his creation of the Gender Role Conflict Scale, a widely-used measure of men's conflict with their gender role.
An extensive summary of O'Neil's research was recently featured in The Counseling Psychologist, a journal in the division of Counseling Psychology of the American Psychological Association.
The summary reviews more than 230 empirical studies that demonstrate that male gender role conflicts relate to significant psychological and interpersonal problems and therefore are important issues for psychologists, educators, and other helping professionals.
Mark Kiselica, former president of the Society for the Psychological Study of Men and Masculinity, Division 51 of the American Psychological Association, describes O'Neil as one of the most prolific scholars in the nation regarding the psychology of men and masculinity.
"For over 25 years, he has conducted a systematic line of research and theory development on gender role conflict," says Kiselica, a teaching fellow in the department of counselor education at The College of New Jersey.
"His gender role conflict concept is perhaps the best known and most widely researched construct in the field."
O'Neil is a founding member of the Society for the Psychological Study of Men and Masculinity. He was named the society's Researcher of the Year in 1997.
He was awarded Teaching Fellow status at UConn in 1995 for excellence and dedication to the teaching profession, and a Fulbright teaching scholarship to Russia in 1992. O'Neil has taught at UConn since 1982.