Dr. Kourosh Parham, assistant professor of otolaryngology, has received the Jahnigen Scholar research award as part of the American Geriatrics Society's long-term project to increase geriatrics expertise in surgical and medical specialties.
Parham, who has a longstanding interest in age-related hearing loss, will study the ability of steroids to protect the ears of elderly people from hearing loss related to the use of certain chemotherapy drugs for the treatment of cancer.
Cancer treatment is common among the over-65's, who make up more than 60 percent of newly diagnosed cases of cancer, according to data from the National Cancer Institute.
"It's widely known among physicians that certain drugs used for treating cancer can cause loss of hearing and ringing in the ears as side effects," says Parham.
"Generally, a patient dealing with cancer is concerned about survival and is willing to accept these side effects as part of treatment," he adds.
"Others who cannot tolerate the side effects may be switched to an alternate, possibly less effective chemotherapy drug. My goal is to overcome some of those side effects."
Parham will study whether steroids injected into the inner ear provide protection against hearing loss from cisplatin, a common chemotherapy drug.
"We hypothesize that aging and cisplatin-induced hearing loss interact to produce greater hearing loss than would be expected from either factor alone, and that the aged ear can be protected against cisplatin-induced hearing loss by administering steroids directly into the ear and suppressing inflammatory pathways," he says.
Steroids are used already in treatment for sudden hearing loss and for cancer.
Parham was a basic scientist in the Health Center's surgical research center in the early 90's before going to medical school.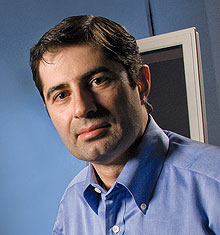 Dr. Kourosh Parham, assistant professor of otolaryngology.
Photo by Al Ferreira
Besides graduating from the UConn School of Medicine, where he also completed his residency in otolaryngology and head and neck surgery, Parham received a Ph.D. in experimental psychology and neuroscience from Northern Illinois University.
"I have been away from research for about nine years," he says. "This grant allows me to get back to it."
The award, funded by the John A. Hartford Foundation and Atlantic Philanthropies, provides a two-year grant of $250,000 (including an institutional match) to help young faculty begin and ultimately sustain a career in research and education in the geriatrics aspects of their discipline.
Besides financial support, the award requires faculty support for recipients. Parham will be mentored in his research project by Dr. George Kuchel, professor of medicine and director of the Center on Aging; Dr. Gerald Leonard, professor of surgery/otolaryngology; and D. Kent Morest, professor of neuroscience.
Before the American Geriatrics Society launched its Geriatrics for Specialists Project in 1994, most efforts to increase the supply of physicians with expertise in the care of older adults focused on family practice, internal medicine, neurology, and psychiatry.
The project is designed to help improve the amount and quality of geriatric education received by surgeons and specialists, and to promote geriatric training and research within the disciplines.
A maximum of 10 proposals a year are selected for funding.