Seven chemistry graduate students will direct an all-day symposium on "Transitioning into Green Chemistry" at the American Chemical Society national meeting in Philadelphia in August.
The students, all Ph.D. candidates, will present speakers and organize a research poster session and exhibition at the national meeting, which is expected to attract 14,000 top professionals from academia and the chemical industry.
The chemistry graduate student group, part of the College of Liberal Arts and Sciences, was chosen to lead the graduate student symposium when their proposal to explore green chemistry won a competition among universities around the country.
"We went through a lot of different topics," says Christine Cardillo, a member of the group. "This was something we felt passionate about."
Interest is growing in green chemistry, which finds "environmentally friendly" alternatives to procedures and materials used in chemical laboratories and industrial processes.
The students have prepared their program over the past year and a half, visiting other American Chemical Society national meetings and learning the ropes from student groups that preceded them.
"This is a monumental effort," says Tyson Miller, an assistant professor of chemistry and chemical education, who advises them.
"When graduate students are involved in this type of endeavor, they learn about networking, fund raising, and programming at national meetings."
All are skills that they can later use on the job, whether they work in industrial or academic settings.
As the organizers of this year's national graduate student symposium, the UConn students got to select next year's team, from the Massachusetts Institute of Technology, and mentor them.
"It's given us good experience, working as a committee and coming to decisions together," says Cardillo.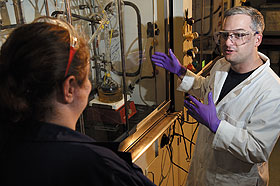 Justin Fair discusses his research with Christine Cardillo in a lab in the Chemistry Building. Both are Ph.D. students.
Photo by Peter Morenus
Their program will include speakers from industry and academia.
Nicholas Leadbeater, an assistant professor of chemistry at UConn, will speak on his research into microwave heating as a new alternative for clean organic synthesis in chemistry labs and in biofuel production.
Other speakers include Berkeley "Buzz" Cue, creator of Pfizer's green chemistry initiative; Victor Atiemo-Obeng of The Dow Chemical Co., who will speak on the practice of sustainable chemistry; and Joan Brennecke of the Notre Dame Energy Center, who will speak about the use of green solvents in chemistry laboratories.
The chairperson of the student group is Justin Fair, a graduate teaching and research assistant at UConn who joined the Ph.D. program after serving in the U.S. Army.
While in the army, he moved through the ranks to captain and was a nuclear medical science officer for the 34th Civil Support Team.
Other students in the group are Ashley Bartelson, Besnik Bajrami, Michelle Dean, Sadagopan Krishnan, Naimish Sardesai, and Cardillo.
To learn more about the program, visit the students' web site: chemistry.uconn.edu/gsspc/index.html
To hear UConn faculty member Nicholas Leadbeater talk about his green chemistry research, go to www.clas.uconn.edu/facultysnapshots/view.php?id=leadbeater