Mwangi Samson Kimenyi studies the African economy and the institutional factors that seem to thwart development on a continent renowned for its rich natural resources.
On July 2, he delivered the keynote address to a meeting of economists in the African Division of the World Bank in Washington, D.C., focusing on how to improve service delivery in fragile states that are characterized by low accountability.
Low accountability hinders economic development in many African countries, he believes.
Kimenyi, associate professor of economics in the College of Liberal Arts and Sciences, coordinates a long-term study on institutions and service delivery in Africa on behalf of the Nairobi-based African Economic Research Consortium.
He also has served on the Public Universities Commission in his native Kenya, and is founding executive director of the Kenya Institute for Public Policy Research and Analysis.
Many sub-Saharan African countries do not have the financial resources to pay their teachers and doctors or to build the infrastructure that would provide education, health, and sanitary services needed for an efficient economy, he notes.
They also lack qualified personnel to lead the effort, and their governments do not have the institutional capacity to deliver public services.
Some are also ethnically fragmented, which affects both their politics and their public service delivery, he says.
But lack of accountability among policy makers, service providers, and consumers is the most glaring problem, he has found.
Accountability relationships that link these three groups "have totally broken down in some cases. In other cases, they are very weak.
"If you go to a clinic and wait three hours and the doctor does not show up, you should be able to report it and someone should do something about it."
Absenteeism among professionals who are paid to provide services to the population shows up when researchers conduct random checks and censuses at clinics.
A large share of resources allocated by central budget authorities do not reach the frontline providers, he says. Instead, service delivery is characterized by what he calls "widespread leakages of resources."
Highly centralized political structures in which governments control resources and treat ethnic groups differently are another problem.
The exclusion of some groups is a particularly serious problem in Africa, Kimenyi has found.
Democracy is not fully entrenched, and electoral processes tend to be compromised, he says.
In Kenya, even though the economy is now growing, unresolved ethnic issues stand in the way of development.
The benefits of growth have not trickled down to the poor. Groups that feel marginalized have serious grievances, Kimenyi says.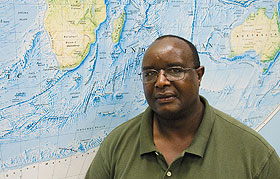 Mwangi Samson Kimenyi, associate professor of economics, at the Homer Babbidge Library.
Photo by Sean Flynn
Universities in Kenya have also suffered from a brain drain, with their graduates leaving to work in more prosperous areas.
His message to organizations such as the World Bank is that while it is important to strengthen the capacity of weak governments, it is crucial to look for alternate approaches, such as using management contacts or working with the private sector.
Where accountability relationships have totally broken down, non-governmental organizations or even community groups could be more effective in delivering services, he maintains.
"You need to continue engaging in improving service delivery," he says, especially with weak African states, because they face a high risk of reverting to civil conflict.
He argues that as citizens receive better services, eventually a tipping point is reached when health care and education improves enough that the risk of reversion recedes.
Voters then become more active, and governments become more accountable, he says.
Some African countries have made major strides, Kimenyi says.
Uganda has made progress in the post-Idi Amin era, although it is not fully stabilized yet. Botswana is very strong, he says, providing services to the poor and instituting progressive policies.
Still, most of the weakest countries in the Failed States and Fragility indexes are African, he points out.
These states are not on a trajectory to meet targets for reducing hunger and poverty and infant mortality rates, despite their having agreed to do so by 2015 in the United Nations Millennium Development Goals.
The primary reason is poor service delivery, he says.
Kimenyi has written for a United Nations program a prescription for reform policies for Africa that he believes would deliver better services to those who most need them and would achieve balanced growth.
"Focus on improving the functioning of markets where poor people participate," he advises.
Other recommendations call for targeting low-skill, labor-intensive economic activities; reducing market segmentation so that markets for the poor are better integrated into the economy; and instituting policies that support the accumulation of tradable assets by the poor.
He also calls for institutional reforms that empower the poor through the progressive diffusion of power.
Kimenyi's recommendations are available online.