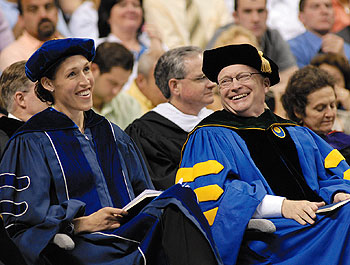 Rebecca Lobo, a member of the Board of Trustees, television commentator and member of the championship 1995 basketball team, shares a laugh with Dr. John W. Rowe, chairman of the Board of Trustees at the College of Liberal Arts and Sciences Commencement ceremony.
Photo by Frank Dahlmeyer
News Links
May 19, 2008 ¦ Volume 26, No. 31
PUBLICATION NOTICE: The Advance is now on a reduced publication schedule for the summer. The next issue will be published on June 2. Additional summer issues will be published monthly, and we resume weekly publication at the start of the fall semester.
Rebecca Lobo tells graduates to dream big
"I'm a living testament to the power of delusional thinking," Rebecca Lobo told graduating students during undergraduate commencement exercises in Gampel Pavilion on May 11. Read more...
Prominent surgeon named Health Center vice president, dean
A nationally prominent orthopaedic surgeon and administrator from the University of Virginia was appointed vice president for health affairs at the Health Center. He starts his new position Aug. 11. Read more...
Funding expected for Storrs Center garage
Connecticut Gov. M. Jodi Rell on May 14 said $10 million to fund a parking garage for the Storrs Center is expected to gain approval when the state Bond Commission meets on May 30.Read more...
Teaching award winners announced
This year's winners of awards for excellence in teaching and advising were announced on April 24, during a recognition dinner held in Rome Ballroom. Read more...