A nationally prominent orthopaedic surgeon and administrator from the University of Virginia was appointed vice president for health affairs at the Health Center. He starts his new position Aug. 11.
Cato T. Laurencin, M.D., Ph.D will become the seventh dean of the School of Medicine. He will hold the Van Dusen Chair in Academic Medicine and a professorship in the Department of Orthopaedic Surgery.
"I couldn't be more thrilled to make this appointment," says University President Michael J. Hogan. "Dr. Laurencin is an exceptionally accomplished scientist, doctor, and community leader with outstanding administrative skills."
Laurencin is currently the Lillian T. Pratt Distinguished Professor and chair of the Department of Orthopaedic Surgery at the University of Virginia, as well as the Orthopaedic Surgeon-in-Chief at the University of Virginia Health System.
In addition, he was designated a University Professor at the University of Virginia, holding one of the university's most prestigious titles, and has professorships in biomedical engineering and chemical engineering.
Laurencin is an expert in shoulder and knee surgery and an international leader in tissue engineering research. He is a Fellow of the American College of Surgeons and the American College of Orthopaedic Surgeons, is widely published in scholarly journals, and holds more than 20 U.S. patents.
Among his numerous awards and accolades, he was recently honored by Scientific American Magazine as one of the top 50 innovators for his groundbreaking technological work in the regeneration of knee tissue.
"The University of Connecticut is a wonderful institution with an outstanding young medical school," Laurencin says. "I am excited about leading this great medical center."
His selection follows a comprehensive national search to find a successor to Peter J. Deckers, M.D., who is leaving his position Aug. 10, after 13 years as dean, eight years as executive vice president and more than 20 years of service to the UConn Health Center.
Deckers will take a one-year leave and will formally retire in 2009. During his retirement, however, Deckers, an accomplished surgical oncologist, will remain involved with the Health Center and will see patients, teach, and assist with philanthropic and outreach efforts.
"I'm grateful that Peter Deckers has agreed to continue in his role and assist with the leadership transition until Dr. Laurencin begins his appointment on August 11," says President Hogan.
"Throughout my transition here, Peter has provided not only assistance and advice, but also personal friendship that I deeply value."
The search committee for Deckers' successor was led by Richard Garibaldi, M.D., who is the Health Center's former chairman of the Department of Medicine.
"Dr. Laurencin is inspirational; an outstanding candidate," Garibaldi says. "The search was a great team effort; everyone approached the task in good faith with the best interests of the Health Center in mind. It was a great job of really pulling together to get a great new leader."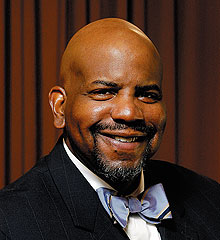 Cato T. Laurencin, who has been named the new vice president for health affairs at the Health Center and the dean of the School of Medicine, will begin August 11.
Photo by University of Virginia
"The opportunities for the Health Center and for the university are enormous," Laurencin says.
"I look forward to working with faculty, students, staff, and the community."
Laurencin, who has been with the University of Virginia and its Health System for five years, was also at Drexel University, Drexel University School of Medicine and Hahnemann Hospital in Philadelphia where he served as the Helen I. Moorehead Distinguished Professor of Chemical Engineering, Vice Chairman of the Department of Orthopaedic Surgery, Clinical Professor of Orthopaedic Surgery and Director of Shoulder Surgery.
Raised in North Philadelphia, Laurencin earned his undergraduate degree in chemical engineering from Princeton University and his medical degree from Harvard Medical School, where he was a Magna Cum Laude graduate and the recipient of the Robinson Award for Excellence in Surgery.
During medical school, he also earned his Ph.D. in biochemical engineering/biotechnology from the Massachusetts Institute of Technology where he was a Hugh Hampton Young Scholar.
Upon completing both of his doctoral degrees, Laurencin joined the Harvard University Orthopaedic Surgery program, ultimately becoming the chief orthopaedic surgery resident at Beth Israel Hospital in Boston.
He also completed a fellowship in sports medicine and shoulder surgery at Cornell University Medical Center and the prestigious Hospital for Special Surgery, where he worked with the team physicians for the New York Mets and St. John's University in New York.
Laurencin has served as Speaker of the House of the National Medical Association, and serves as Chair of the Board of the National Medical Association's W. Montague Cobb Health Institute.
He has been a member of the National Institutes of Health National Advisory Council for Arthritis, Musculoskeletal and Skin Diseases and the National Science Advisory Board for the U.S. Food and Drug Administration. He sits on the National Science Foundation's Engineering Directorate Advisory Committee.
Laurencin has been named to America's Top Doctors and America's Top Surgeons for his clinical achievements and is profiled in the current edition of Black Enterprise magazine which features "America's Leading Doctors."
His research has been funded by the National Institutes of Health, the National Science Foundation, NASA, and the Department of Defense.
He has won the prestigious Nicolas Andry Award from the Association of Bone and Joint Surgeons for his work in musculoskeletal regeneration and he is a member of the Institute of Medicine of the National Academy of Sciences.