An 18th-century Connecticut slave who managed to buy his freedom and that of his family is at the center of a new effort by Anne Hiskes to look at the changing concepts of human identity.
Hiskes, an associate professor of philosophy, said this week that the trigger for her project was a legal dispute over whether the remains of Venture Smith should be exhumed for DNA testing at the request of his descendants.
Smith's remarkable life story was originally told in an autobiography published in 1798, one of America's first slave narratives.
During a luncheon discussion April 29 at UConn's Humanities Institute, Hiskes said the question of "who speaks for Venture Smith" led her to an investigation of how different societies and different eras have attempted to define humanity and the meaning of human rights.
The role life sciences and genetics can play in the creation of a modern, more inclusive approach to human rights is a central theme of her project, she said.
"I'll argue that science has an important role [in that debate]," she said, adding a caveat that science has often been misused in the past to provide a basis for discriminatory or racist social and political policies.
Hiskes is director of the Program on Science and Human Rights and director of research ethics and education for stem cell research at UConn.
She said she is now "in the very early stages" of a 12 to 18-month project to use Venture Smith's story as an entry point for an examination of changing definitions of human rights.
Historians believe Smith, whose original name was Broteer Furro, was born in or near modern-day Ghana about 1729.
He was kidnapped and sold into slavery before the age of 10, and was bought by a family on Fisher's Island off the Connecticut coast in 1738.
After 27 years as a slave, the renamed Venture Smith managed to save enough money to purchase his freedom and eventually the freedom of his wife Meg and their three children.
He bought 10 acres of land on Haddam Neck along the Connecticut River in 1775 and worked the farm until his death in 1805.
In 2006, Smith's descendants were granted the right to have his and his wife's bodies exhumed, in an effort to discover more about their legendary ancestor and his origins.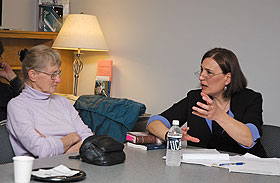 Anne Hiskes, professor of philosophy, right, discusses how changing definitions of humanity have shaped the concept of human rights. Also shown is Ruth Millikan, professor emerita of philosophy.
Photo by Jessica Tommaselli
Hiskes said Smith's descendants were "turning to science to supplement their sense of identity."
The project was carried out despite a legal protest that the exhumation would be disrespectful to Smith and his legacy.
Hiskes said the researchers found to their dismay that Connecticut's acid soil had left them little to work with and thwarted the effort to trace Smith's DNA.
According to Hiskes, the debate over who should speak for Venture Smith and what role science may have in researching who he was can serve as a starting point for a wide-ranging discussion of how the definition of humanity has evolved.
In her talk, Hiskes argued that the 18th-century Enlightenment concept of human rights failed to include women and children as part of the social contract.
She added that many Western thinkers in that era did not consider Africans to be rational human beings and excluded them from the concept of human rights.
She said that attitude was at least partially responsible for a situation in which Thomas Jefferson could pen stirring sentiments about the equality of all men while continuing to own slaves.
In his autobiography, said Hiskes, Smith was "speaking for all those whose humanity had been denied."
But the definition of human rights, partially through the efforts of modern science, is changing to include women, children, the disabled, and minorities, Hiskes said.
"All humans share the same genome," she said.
Hiskes also pointed to differing, non-Western concepts being offered by some African nations and thinkers, such as Archbishop Desmond Tutu of South Africa.
Tutu has expressed the idea that "a person is a person through other persons," rather than being defined as an isolated individual with specific individual rights and obligations.