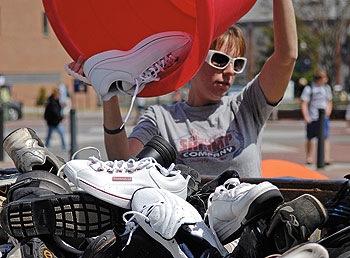 Lorelle Schaub, a junior, pours a tub of used sneakers into a dumpster for recycling during the EcoHusky Earth Day Spring Fling, held on Fairfield Way April 22.
Photo by Peter Morenus
News Links
April 28, 2008 ¦ Volume 26, No. 29
Steam outage planned in May
A complete steam shutdown at the Storrs campus to enable repairs and maintenance to the system is scheduled to take place from Sunday, May 11, at 11:45 p.m., through Friday, May 16.
It is expected to take a couple of days to restore the system to full capacity. In some cases there will be no hot water available for heat, showers, dishwashing, or lab needs.
If you have questions or special requirements, please call Mike Pacholski at 860-486-0041, or Work Order Control at 860-486-3113 to discuss alternate arrangements.
Graduation ceremonies scheduled
UConn officials are putting the finishing touches on arrangements for Commencement weekend May 10-11, when 11 of the University's 14 schools and colleges will celebrate the graduation of students in the Class of 2008. Read more...
Enhancement of summer sessions recommended
A faculty oversight committee that studied UConn's summer and intersession programs says the University should take advantage of several opportunities to enhance the programs, and offered a series of recommendations to do just that. Read more...
Journalism project reveals 'dead voters'
Journalism students led by Marcel Dufresne, an associate professor of journalism who teaches investigative reporting, found that hundreds of dead people are counted as voting in Connecticut elections. Read more...
Promotion, tenure recommendations approved
The Board of Trustees approved the following promotion and tenure recommendations at its meeting on April 15. Read more...