Mardi Hayden, a Health Center respiratory therapist, earned national recognition earlier this year, when she was named Cambridge Who's Who Professional of the Year in respiratory therapy.
Hayden last year became a member of the Cambridge Who's Who Registry, an index of executive, professional, and entrepreneur biographies in the United States, Canada, the United Kingdom, and Australia.
Each year, just two male and two female members in each discipline are named Professional of the Year, based on their accomplishments, academic achievements, leadership, and service.
Respiratory therapists make sure patients get the oxygen they need when they have difficulties with breathing, whether the culprit is asthma, bronchitis, emphysema, pneumonia, chronic obstructive pulmonary disease, sleep apnea, or a premature infant's underdeveloped lungs.
Central to Hayden's selection was her 24 years as a certified respiratory therapist and prenatal-pediatric specialist at the Health Center.
During that time she has cared for babies with a gestational age of 24 weeks (born 16 weeks premature), adults in their 90s, and patients of all ages in between.
She also won an American Red Cross Heroes of Greater Hartford Award in 2001 as a member of a Neonatal Transport Team that made a three-hour drive during a nor'easter to care for a premature infant in respiratory distress.
"Mardi has the can-do attitude and goes beyond the extra step in giving the best patient care," says respiratory therapy supervisor Janet Schoenewolff.
Hayden works on the typically busy evening shift. She also has helped train other respiratory therapists over the course of her career.
The Health Center has 22 full-time respiratory therapists and 10 who work on a per diem basis.
"Our respiratory therapists are highly-skilled professionals who have to be able to care for a variety of patients, ranging from neonates to geriatrics," says Ellen Leone, director of nursing at the Health Center.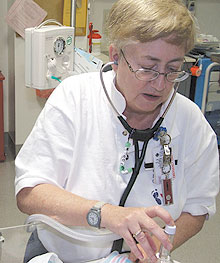 Respiratory therapist Mardi Hayden in a lab at the Health Center.
Photo by Chris DeFrancesco
"They play a critical role on our Neonatal Transport Team and Rapid Response Team. We simply could not offer these services without them."
Respiratory therapists deal with all aspects of breathing issues, including life support, and as part of the Rapid Response Team at John Dempsey Hospital, are among the first to assess patients before they need intensive care. In addition, every Neonatal Transport Team has a respiratory therapist.
"Basically, we're the bones of the medical field," Hayden says.
"We see the patients before the doctors do a lot of times. We're there on the front lines."
Respiratory therapists also counsel families of patients who require oxygen at home, including instructing them how to use and clean the equipment.
Respiratory therapists may start their day working with babies and end up responding to a call from the emergency room.
"It's changing every day from when I started – the medical equipment has grown by leaps and bounds," Hayden says.
"We're able to maintain and preserve quality of breathing easier now. It changes from day to day, so I never come into work knowing that I'm doing the same thing every day."
It's that ever-changing dynamic of the field that appeals to Hayden. That, she says, and the sense of accomplishment when she sees a patient recover.