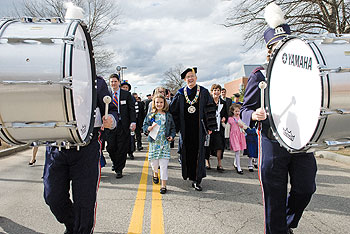 President Michael J. Hogan and members of his family follow the UConn Marching Band up Hillside Road, after the Inauguration ceremony at the Jorgensen Center for the Performing Arts April 13.
Photo by Peter Morenus
News Links
April 21, 2008 ¦ Volume 26, No. 28
Steam outage planned in May
A complete steam shutdown at the Storrs campus to enable repairs and maintenance to the system is scheduled to take place from Sunday, May 11, at 11:45 p.m., through Friday, May 16.
It is expected to take a couple of days to restore the system to full capacity. In some cases there will be no hot water available for heat, showers, dishwashing, or lab needs.
If you have questions or special requirements, please call Mike Pacholski at 860-486-0041, or Work Order Control at 860-486-3113 to discuss alternate arrangements.
Community celebrates Hogan's inauguration
Music resonated through Jorgensen Auditorium on Sunday afternoon and continued at the festivities afterwards, as the University of Connecticut celebrated the inauguration of its 14th president, Michael J. Hogan, on April 13. Read more...
Draft of academic plan presented to Board of Trustees
A revised academic plan that focuses on the themes "Our World, Our People, and Our Future" was presented to the Board of Trustees on April 15. Read more...
New dean of agriculture joins UConn from Arkansas
Gregory Weidemann of the University of Arkansas has been named the new dean of UConn's College of Agriculture and Natural Resources. He will begin in July. Read more...
Middle East studies aware given to women's rights activist
Fatemeh Haghighatjoo, a women's rights activist and former member of the Iran's reform parliament, was awarded the first Middle East Studies Achievement Award last week by Ross MacKinnon, dean of the College of Liberal Arts and Sciences. Read more...