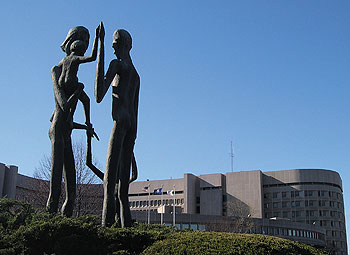 A sculpture, The Family, by Wolfgang Behl, part of the permanent collection of art at the Health Center in Farmington.
Photo by Leonard Blanks
News Links
March 24, 2008 ¦ Volume 26, No. 24
CASE recommends new hospital, partnership
The Connecticut Academy of Science and Engineering (CASE) issued its report to the state legislature March 18 on the Health Center's clinical facility needs. To support excellence in academic medicine, CASE suggested that a new hospital be constructed on the Health Center's campus. Read more...
Hogan to sign environmental pledge March 25
University President Michael J. Hogan on Tuesday, March 25, will officially sign the American College and University Presidents' Climate Commitment (PCC), a document that commits the Storrs campus to achieving carbon neutrality by 2050.Read more...
Gift to Torrington campus boosts writers, artists project
A $250,000 gift to the University's Torrington Campus will enhance the Litchfield County Writers and Artists Project (LCWAP), a program that has brought dozens of highly acclaimed authors and artisans to campus. Read more...
Event to showcase Harlem Renaissance
Political scientists, historians, artists, and philosophers will revisit the ideas of the post-World War I Harlem Renaissance in a conference at UConn from March 27 to March 29. Read more...