A new CD of original music by Professor Kenneth Fuchs, featuring the London Symphony Orchestra, conducted by JoAnn Falletta, has been released on the American Classics label.
UPDATE (May 5, 2008): Kenneth Fuchs, a professor of music, center, with Edward Cumming, left, music director of the Hartford Symphony Orchestra, and Richard Todd, principal horn of the Los Angeles Chamber Orchestra, during a rehearsal for the world premiere of Fuchs' orchestral piece Canticle to the Sun, at the Bushnell Center for the Performing Arts in Hartford in April. The composition is on his new compact disc, released earlier this year.
Photo by Peter Morenus
The longest piece, Canticle to the Sun, a horn concerto, is being premiered by the Hartford Symphony Orchestra at the Bushnell on April 29 and 30.
Staff writer Sherry Fisher recently sat down with Fuchs to talk about his work. This is an edited transcript of a longer interview.
Your life dream was to be a composer. Tell me about that.
I started pursuing an interest in composing at the Juilliard School in New York City, where I earned my master's and Ph.D. degrees.
It was a wonderful environment. I was surrounded by musicians like Aaron Copland and Leonard Bernstein, who taught classes there.
They were my role models, and through them I learned about the incredible discipline it takes to be a professional musician.
Pursuing a career in classical music is so competitive, and I learned that if you want to succeed, you have to make a sustained commitment over your entire life.
Your first recording featuring the London Symphony Orchestra came out in 2005, and garnered two Grammy Award nominations. Now, your second CD is receiving rave reviews.
I couldn't have done it without the support of the University of Connecticut, the Foundation, and the gifts of institutional benefactors and individual donors who made the second disc possible.
We had great success with the first disc, and I wanted to follow up on that. I had enough music between the two orchestral pieces – United Artists, the lead piece, and Canticle to the Sun, the concerto for French horn and orchestra – plus the three chamber pieces, and it was just the right material to put a second disc together.
What was it like recording with the London Symphony Orchestra, which is known for its recordings of film scores such as Star Wars, Indiana Jones, and Superman?
Absolutely amazing. The orchestra is known for its ability to read and record at sight. There are very few orchestras in the world that can do it.
The LSO can come into a recording studio – where time is precious and expensive – and record the music that is put in front of them without rehearsal. It's unbelievable. I go into my studio every day and write this music, over many months, toiling day after day with a vision.
I've filled out applications for funding, dealt with all of that, and then, after almost two years of groundwork, I walk into this recording studio.
Then, in the space of a few hours, they record my music – almost flawlessly – without ever having rehearsed it. The whole disc was recorded in two days.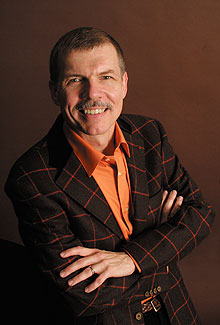 Kenneth Fuchs, professor of music and composer.
Photo by Peter Schaaf
Is that what inspired you to write United Artists, the first piece on the disc?
Yes. I was so blown away by the experience of working with the LSO on my first disc that I wanted to write a work that acknowledged my affection for the orchestra and its artistry.
So I wrote what we call an orchestral opener, a very bright, energetic orchestral piece, as a tribute to the LSO.
I understand that Canticle to the Sun was written specifically for Timothy Jones, the LSO's principal French horn.
I love the French horn, and when I heard Tim play my music for the first time, I was amazed. It was exactly the way I had heard it.
I asked him if he would consider letting me write a concerto for him. Canticle to the Sun is based on the hymn tune All Creatures of our God and King that I grew up with. It fits the French horn – that very round, golden, mellifluous sound.
I wanted to take elements of that tune and create a spiritual, musical place, almost like a musical church for Tim to be the celebrant.
I know you're also inspired by particular works of art.
While living in New York, I started going to museums and galleries, and I fell in love with abstract expressionist painting.
Autumn Rhythm was inspired by Jackson Pollock's large painting by the same name, which I first saw at the Metropolitan Museum of Art in the '80s.
I wanted to write a piece of music that expressed some of the same energy and pulse.
I wrote Fire, Ice and Summer Bronze after seeing Helen Frankenthaler's work. It was so colorful, visceral, and exciting. I thought, "Wow, I want my music to sound like that."
Do you compose at the piano or keyboard?
No. I don't initially sit down at the keyboard and start playing. I hear the music in my head.
I know what the instruments sound like, and I can hear the orchestra playing. At that point, I'll get the music paper and start to sketch some ideas. I use the keyboard as a reference to check specific harmonies and chord voicing.
What do you tell students who want to become composers?
I tell them, "If you want to be a composer, you must study musical repertoire of all stylistic periods. You must develop your ear and ability at the keyboard. And you have to learn how to promote yourself and your music.
You need a web site, you need photographs, and you need to learn how to contact conductors and performers, what to say in a letter, and how to follow up. You need to know how to prepare your music for a recording session.
In short, you have to become a musical entrepreneur."
Hear Kenneth Fuchs music on his faculty webpage - scroll to the player at the bottom of the page.