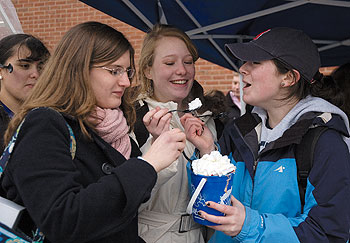 From left, Kristina Jablonski, a freshman pre-teaching major, Cara Flynn, an exploratory freshman, and Annemarie Hovasse, a sophomore psychology major, enjoy an ice cream at the SUBOG One Ton Sundae event, Feb. 8.
Photo by Jessica Tommaselli
News Links
February 19 , 2008 ¦ Volume 26, No. 20
Experts weigh impact of technology, Internet on democracy
Government should follow the example of the online encyclopedia Wikipedia by tapping into the expertise of ordinary people, a New York Law School professor said during a UConn symposium on "e-democracy." Read more...
University Medal winners announced
Two individuals who have contributed significant public service to the UConn will receive the University Medal at commencement ceremonies in May. Read more...
Grad student first to complete master's in clinical, translational research
The first master's degree student in a new Storrs campus-Health Center program has successfully defended her thesis, a milestone for a collaborative effort that aligns the University with the National Institutes of Health "Roadmap" for the direction of medical research. Read more...
Nominatons sought for student life awards
The Department of Student Activities is seeking nominations and applications for the 2008 Student Life Awards. Read more...