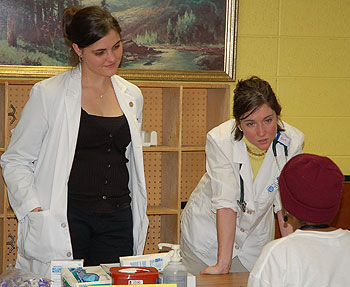 Medical student Jessica Johnson, left, and nursing graduate student Kara O'Brien offer health advice at the Parkville Senior Center in Hartford during National Primary Care Week last month. Students from the schools of medicine, dental medicine, nursing, and pharmacy took part in the week's activities, designed to increase awareness of the importance of primary care and community service.
Photo by Janine Gelineau
November 26, 2007 ¦ Volume 26, No. 13
UConn, community colleges sign new transfer agreement
Graduates of Connecticut's community colleges who earn an associate's degree with at least a B average will be guaranteed admission to UConn through a new program announced Nov. 14. Read more...
Faculty, students discuss proposed policies for handling cases of academic misconduct
A proposal to streamline procedures for handling cases of academic misconduct and centralize the adjudication of such cases was the topic of a public forum organized by the University Senate Scholastic Standards Committee in Konover Auditorium on Nov. 13. Read more...
Process improvement teams honored
Four teams of employees who have worked together to improve challenging administrative processes were honored Nov. 16 during a celebration at the Alumni Center. Read more...
Awards given for diversity achievements
Recipients of the University's Second Annual Diversity Awards were honored during a reception on Nov. 15. Charlie Nelms, chancellor of North Carolina Central University, gave a keynote address. Read more...