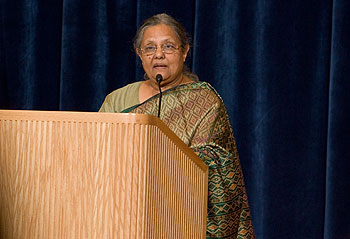 Peace activist Ela Gandhi, granddaughter of Mahatma Gandhi and a former member of the South African Parliament, delivers an address at the Student Union Theatre on Oct. 4.
Photos by Peter Morenus
October 15, 2007 ¦ Volume 26, No. 8
University receives grants for research on tobacco-related disease
UConn researchers working on five different projects will share in more than $1.5 million in state grants to study cancer, heart disease, and other tobacco-related illnesses. Read more...
Immigration issues addressed at Latino Association event
Until the federal government develops a plan to deal with immigration related issues, cities will have to come up with their own solutions, says New Haven Mayor John DeStefano Jr. Read more...
Speaker says violence is a spiral
The life of Mahatma Gandhi was not fragmented by prejudice, consumerism, and an obsession with making money. Instead, his life was full of spirituality and values such as compassion, truth, and self-discipline. And his message is as relevant today as ever, according to his granddaughter. Read more...
Nursing dean elected national position
School of Nursing Dean Anne Bavier has been elected Secretary of the Board of Governors for the National League for Nursing. Read more...