A drug that is primarily used to treat seizure disorders and prevent migraines significantly helped reduce heavy drinking among alcoholics compared to a placebo, according to a new study published Oct. 10 in the Journal of the American Medical Association.
The study was conducted between January 2004 and August 2006 at 17 sites across the country, including the UConn Health Center.
The participants included 371 men and women ages 18 to 65 years diagnosed with alcohol dependence.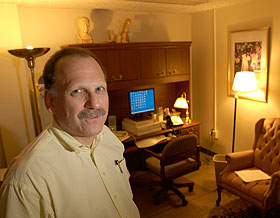 The Health Center's Dr. Henry Kranzler, one of the investigators on a study of a medication to reduce drinking.
Photo by Peter Morenus
They received up to 300 mg per day of either the medication topiramate or a placebo, along with a weekly counseling session to promote adherence to the study medication and the treatment regimen.
The drug is manufactured by Ortho-McNeil Janssen Pharmaceuticals, which sponsored the study. Taken in tablet form, it helped alcoholics reduce the number of heavy drinking days over the 14-week study period by up to 16 days, compared to the reduction seen in the group taking the placebo.
"The drug had a very robust effect on drinking," according to Dr. Henry Kranzler, one of the investigators on the study.
"It was not a total cure; participants were still drinking heavily on occasion, but a reduction in drinking can reduce the harmful consequences of alcohol in the form of fewer accidents and fewer medical consequences."
That, he adds, is an important public health consideration. Alcohol abuse is estimated to cost the nation more than $184 billion annually in health care services, premature deaths, losses in workers' productivity, and alcohol-related crime and motor vehicle crashes.
Study participants included men who were drinking at least 35 standard drinks a week, and women who were drinking at least 28.
A standard drink is 0.5 oz. of absolute alcohol, equivalent to 10 oz of beer, 4 oz of wine, or 1 oz of 100-proof liquor.
To be eligible, participants had to express a desire to stop or reduce their consumption of alcohol.
During the 14-week study, the participants were assessed on drinking, alcohol withdrawal symptoms, and compliance with the medication.
Participants' reports on their drinking were corroborated with laboratory tests that measured the concentration of a liver enzyme in their blood.
The therapeutic effect of the drug was evident no later than week four of the study.
Participants reported some side effects of taking the drug, including tingling of the skin, changes in taste, fatigue, insomnia, nervousness, and dizziness.
Because participants taking the drug were more likely to drop out of the study, future studies might look at the efficacy of a smaller dose of the medication and its impact on side effects, Kranzler suggests.
"Our goal in this line of research is to identify a group of medications that work better than a placebo to help alcoholics reduce or stop their drinking, and to determine whether certain medications work better for some people than for others," he says.
"Our finding that topiramate is a safe and robustly efficacious medication for treating alcohol dependence is scientifically and clinically important," researchers said in the study.
"Discovering pharmacological agents such as topiramate that improve drinking outcomes can make a major contribution to global health."