Drug cartels have much in common with the makers of tobacco, alcohol, and other drugs, according to anthropologist Merrill Singer in a new book.
"While the above-ground sector of the drug industry tends to be wrapped in a 'cloak of social legitimacy,' the underground sector generally suffers the 'stain of illegality,'" says Singer, author of Drugging the Poor: Legal and Illegal Drugs and Social Inequality.
But, he says, both factions have "many shared features and common strategies for achieving their goals."
Singer, a senior research scientist at UConn's Center for Health, Intervention and Prevention, says the book stems from some 17 years of research and interviews with thousands of drug users.
The book is his third in a series on drugs.
He says the cartels and so-called "bad guys" are seen as promoting illegal drugs and are linked with terrorism, while the alcohol industry promotes baseball leagues and high school sports, and builds stadiums.
But illegal drug corporations actually engage in many of the same positive behaviors as legal ones, such as philanthropy, Singer says.
"In the book, I'm trying to make the point that our conceptions and the way we think about drugs – trying to make a separation between the legal and illegal – is to a degree, a fantasy," he says.
"There is incredible similarity between the above ground and below ground parts of the industry. Some have even said, 'These illegal corporations seem to be reading from MBA textbooks.'
"We don't see too much of it in the U.S., but in the countries of origin, the large illegal cocaine companies are building soccer stadiums and planting trees in local communities," Singer says.
"They're courting favor for the same reasons as legal companies: building public relations. It gives them a positive image."
Outsourcing and branding, the same kinds of marketing strategies that are used by legal corporations, are also used by illegal ones, he says: "It's all driven by profit."
"The drug industry produces drugs that people use to alter their emotional states," he says.
"In the case of pharmaceuticals, while they ostensibly market legally, a huge number of [drugs] are diverted for illegal use. There are serious questions as to what degree the legal manufacturers recognize they have an illicit market."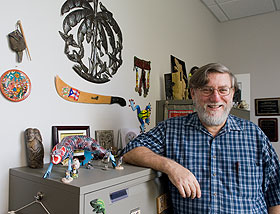 Merrill Singer, a research associate at UConn's Center for Health, Intervention and Prevention, in his office.
Photo by Peter Morenus
Legal or illegal, Singer says, drugs impact users in the same way and are intertwined.
"People will use alcohol and heroin together. They shoot up and drink. Quite commonly, because we did field observation and saw how people used heroin, they'd shoot up and would light up a cigarette right afterwards. They felt that tobacco helps facilitate absorption of the heroin more rapidly."
Singer says, "We think about illegals in terms of fighting a war on drugs, but the legal corporations fight a war for drugs. "The companies that make tobacco and manufacture cigarettes want us to smoke. It's an economic war. It's an advertising war. It's a war of promoting drug use."
He says impoverished communities are singled out for a "far greater level of advertisement for often the most potent forms of legal drugs, like malt liquor. Sometimes called 'liquid cocaine' on the street, it's almost exclusively promoted in the poorer African-American communities."
Enormous quantities of mind-altering substances make their way into communities that suffer from social disparities, Singer says.
Once people are addicted, they usually focus on a mixture of legal and illegal drugs, he adds: "They're alcohol and heroin addicts, and they're cocaine addicts and hooked on cigarettes. It really dumbs down social unrest, allowing social inequality to go unchallenged.
"We go decade after decade with only occasional flare-ups of social unrest in a country that claims we have a level playing field," he says, "yet we know that only a relatively small number of people from the black community succeed, and even fewer members of the Latino community succeed. Why? Drugs play a role in that. There's a cycle of arrests and getting involved in gangs and prison. Gangs are involved in drug sales as a way of making an income."
Singer says poverty, inequality, disease, and drugs are all intertwined.
"The drug problem is a complex one. This book tries to examine the big picture."