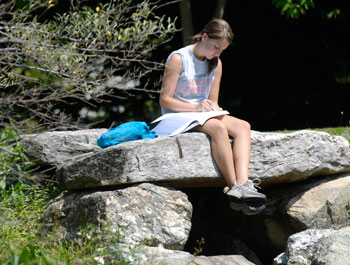 Emily Nirshberg, a senior majoring in English, studies alongside Mirror Lake.
Photo by Frank Dahlmeyer
September 10, 2007 ¦ Volume 26, No. 3
Two groups will receive Dodd Prize in human rights
The third biennial Thomas J. Dodd Prize in International Justice and Human Rights will be awarded jointly to the Center for Justice and Accountability and Mental Disability Rights International on Oct. 1. Read more...
Austin Chair to honor President's 11-year legacy
When President Philip E. Austin steps down after 11 years of leading the University of Connecticut, his legacy will include a refurbished campus, a five-fold growth in endowment, an increased reputation for academic excellence, national athletic success, and many other points of pride. Read more...
Pharmacy school to lead new center
A federal center to be established at the University may help determine which treatments your doctor recommends and which prescription drugs your health plan covers. Read more...
Mandatory water conservation announced
University officials have asked water users to observe mandatory conservation measures after the third driest August on record, with no appreciable rain in the immediate weather forecast. Read more...