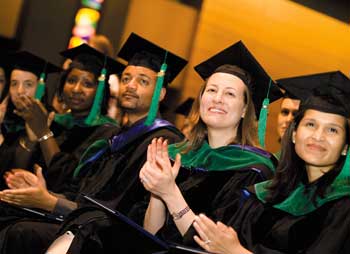 Medical students applaud during the Health Center commencement ceremony at the Connecticut Convention Center in Hartford.
Photo by Al Ferreira
May 29 , 2007 ¦ Volume 25, No. 32
For the summer, the Advance is on a monthly schedule. The next issue will be published Monday, June 18.

Series of moves to renovated space under discussion
A preliminary plan to phase in a series of moves will create new and renovated space for biology, mathematics, physics, the Institute of Materials Sciences, and University Information Technology Services without any department moving more than once. Read more...
Emergency siren to be tested May 30
The University's long-dormant Storrs emergency siren will be tested on Wednesday, May 30, between 11 a.m. and 3 p.m. Read more...
Future physicians, dentists, lawyers graduate
Peace is one of the fundamental rights of humanity, and without it all other fundamental rights lose their meaning, said Nobel Peace Prize-winner Shirin Ebadi in her native Farsi. Ebadi, using an interpreter, delivered the commencement address at the School of Law on May 20, where 227 degrees were awarded. Read more...
Retired professor dies in crash, husband injured
Antonia Brancia (Maxon), a long-time professor in the Department of Communication Sciences, died May 13 after a car accident in Long Island. Her husband and colleague, Sjef van den Berg, was badly injured in the crash. Read more...