Being trapped with a bad credit score is one less financial burden for Alicja Klysz of Coventry High School to worry about.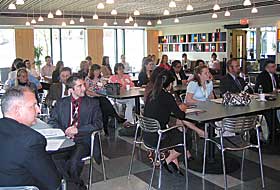 High school seniors and teachers from around the state attend the first Connecticut Youth Financial Institute at the School of Business.
Photo by Katherine Pancak
Klysz and 25 other high school students from around Connecticut visited the School of Business to participate in the first annual Connecticut Youth Financial Institute, a program, designed to educate students about personal finance.
The high school seniors took part in three informational seminars, each taught by a UConn faculty member.
One session was on money and banking; another was on goals, planning, budgeting, and saving; the third was on investing.
"All the things we learned were helpful," Klysz said.
"It's important to have a basic background in finance."
While the students were in their sessions, high school teachers participated in informational sessions on resources for financial education; Junior Achievement, an organization that seeks to educate youth on how to succeed in a global economy; and on admissions and opportunities at the University's business school.
"I think [financial education] is a must," said Paula Jussila, who teaches business at South Windham High School. "Students don't always feel it's important.
"Most think, 'we're young, we don't need to know this stuff yet,'" she adds.
"But they really do."
Financial education for students is an area that is getting more attention, especially since there are more opportunities to get into financial trouble, said Linda Klein, associate dean of the School of Business, who instructed the student session on goals, planning, budgeting, and saving.
"Finance is a critical life skill," Klein said. "If students understand how money works, they will be light years ahead of everyone else."
She said the students were "involved and willing to share their ideas. It was an interactive environment."
Joe Banach, a senior at South Windsor High School, said, "The budget course will help me now and throughout my life. It's important to know how to balance your budget."
The program was also designed to bring high school students into a university setting and allow them to experience college level instructors, according to Lou Golden, president of Junior Achievement of Southwest New England.
He is also chair of the Jump$tart Coalition, an organization comprised of government agencies, financial institutions, and corporations seeking to increase financial literacy among Connecticut's youth.
Both organizations were co-sponsors of the program with the business school.
"UConn has a great business school," Banach said.
"I thought it was a great opportunity to see what college is like and learn about something I like at the same time."
Luncheon speaker Vincent Armentano, senior vice president for Travelers, spoke with students and teachers about corporate life and reaching career goals.
"More opportunities for students to gain experience through partnerships between businesses and colleges can only add up to a good thing," he said.
Golden said Jump$tart teamed up last summer with the School of Business to examine the impact of financial literacy on high school students.
The result was an intensive program focused on educating a small number of high-performing students on financial literacy.
"We wanted students to have the opportunity to delve intensively into issues that will affect their lives in the future, like investments and saving strategies," he said.
The program was publicized to all high schools in Connecticut during the fall and winter.
Participants were required to have a 3.2 grade point average, write an essay explaining their interest in financial education, and provide a letter of recommendation.
"I was impressed with the caliber of the students that applied," said Golden.
Katherine Pancak, professor-in-residence of finance who helped organize the program, said the program will be held again next year.
"We've been getting positive feedback," she said.
"It's definitely worth having again."