A junior majoring in human development and family studies has won first prize for a public policy proposal and was a finalist in a competition for a prestigious scholarship.
Samantha Sherwood was recently awarded first prize by Yale University's Roosevelt Institution for her policy proposal on expanding the Family Medical Leave Act of 1993 (FMLA).
Family leave policy involves time taken off by employees to take care of foster or adoption issues, a new child, a sick child, a spouse, or an elderly parent.
Sherwood, who is minoring in political science, was also selected as one of 200 finalists for the Truman Scholarship, which is awarded to 65 students in the country, for a proposal on the same topic.
Sherwood became interested in family leave while taking a course on public policy and the family with Steve Wisensale, a professor of human development and family studies.
"Professor Wisensale helped me develop my proposal," Sherwood says.
"It was great to have him to bounce off ideas."
Shortly after being a finalist for the Truman Scholarship, Sherwood was contacted by the Roosevelt Institution, based in Washington, D.C., to submit her proposal for publication in a journal.
Her proposal would expand the FMLA, which currently allows workers 12 weeks of unpaid leave every 12 months if a business employs at least 50 people.
Sherwood's proposed change would lower the requirement from 50 to 20 employees, and offer paid leave that would allow for 50 percent of employee wages, with a cap of $800 per week.
Leave would be expanded to 16 or 18 weeks if a man takes two of those weeks for child care, in an effort to promote gender equality, she says.
To finance this plan, Sherwood suggested that a federal payroll tax be implemented.
"The average worker would get about $50 per year taken out, and the minimum wage worker would get about $12 taken out," Sherwood says.
Since California is the only state that offers paid leave, Sherwood used that state's cost model and expanded it to fit the U.S. population.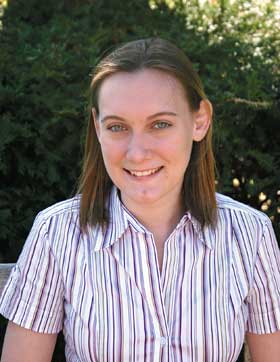 Samantha Sherwood
The Roosevelt Institution suggested that she pair up with another student, Kaitlin Canty, from Union College in Schenectady, who had a similar proposal.
Sherwood and Canty worked together to create a PowerPoint presentation for the "America's Social Contract" conference at Yale University, sponsored in part by the Roosevelt Institution.
"We worked together via e-mail to submit an article on expanding the Family Medical Leave Act of 1993," Sherwood said.
"We used my proposal and her statistics and testimony as background information to defend our presentation."
The journal, 25 Ideas Series, is a special series with new policy ideas that will be distributed to more than 2,000 members of Congress and local government officials.
"It was my best chance to get published as an undergraduate," says Sherwood.
"I've done a lot of international research and took elements from the current policy and policies of different states and countries."
Sherwood and Canty's presentation was selected as the strongest policy proposal.
"It was quite an honor — and a shock to see that people really saw it as an important issue," Sherwood says, noting that 11 other presentations were given by students from Yale, Brown, Columbia, Princeton, and Dartmouth.
"Her [proposal] is pretty realistic, and the timing is right," says Wisensale.
Says Sherwood, "This experience helped me learn a lot about myself, my interests and my passions."