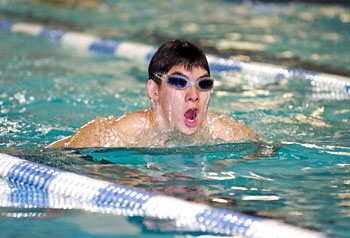 Go Kamiyama, a junior majoring in management information systems, swims laps in Brundage Pool, in the Student Recreation Facility.
Photo by Jordan Bender
January 22 , 2007 ¦ Volume 25, No. 17

Copyright information now available on Libraries' web site
The Libraries' copyright web site provides users with valuable information and tools to help them navigate the complexities of copyright law in the digital age. Read more...
Ethics ruling hampers fund-raising efforts
A ruling by the state Ethics Citizen's Advisory Board last spring has had a significant and detrimental impact on corporate giving to state entities, including UConn. Read more...
Associate vice president for operations appointed
Thomas Q. Callahan, formerly special assistant to President Philip E. Austin, has been named associate vice president for administration and operations services, following a nationwide search. Read more...
Nominations sought for environmental leadership awards
The Environmental Policy Advisory Council is accepting nominations for the University's biennial Environmental Leadership Awards, to be presented during Earth Day celebrations in late April. Read more...