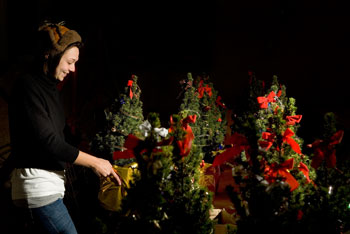 Kara Franco, a senior, decorates holiday trees at the Ratcliffe Hicks Arena, as a fund raiser for the Horticulture Club.
Photo by Peter Morenus
December 11 , 2006 ¦ Volume 25, No. 15
PUBLICATION NOTICE: This is the last issue of the Advance for the 2006 fall semester. We resume weekly publishing on January 16.

UConn, Dubai developing partnership for campus in Middle East
The University of Connecticut and the Emirate of Dubai are expected to sign an agreement soon to work out details of an educational partnership that would establish a UConn campus in Dubai. Read more...
Capital projects group to discuss new classroom building plan
Questions raised about the new classroom building by the Department of Psychology and Babbidge Library have resulted in an alternative building design that will be discussed at a Capital Projects Planning Advisory Committee meeting on Thursday, Dec. 14. Read more...
NCAA self-study now underway
The University has initiated a comprehensive self-study of its intercollegiate athletics program. The study represents the first step toward recertification of UConn's program by the National Collegiate Athletic Association (NCAA), the governing body for intercollegiate athletics in the United States. Read more...
Culpeper Media Library adopts self-service DVD, video checkout
The Homer Babbidge Library has changed to self-service in the media library to consolidate staff resources and provide more open access to media collections, particularly videos. Read more...