Caroline Wetzel had seen photos, read books, and formed an impression of China.
But what she found when she joined 19 other UConn business students on a trip to the world's most populous nation changed her outlook.
"What really struck me on the trip was the realization that China is far more than a developing country. The people, the infrastructure, it's all more developed than you'd think," she said, back at her desk at UBS, a global financial services firm in Stamford.
"I was very impressed by the people, very touched by their passion and drive and desire to continue to advance themselves and their society."
Wetzel and her colleagues, all MBA or ABC (Advanced Business Certificate) students from the Stamford and Greater Hartford campuses, were led to the Far East by Professors Wynd Harris and Timothy Dowding.
The students prepared for the trip with research and assigned readings beforehand, and are now writing a 20-page paper. They will earn three credits.
It was the third MBA trip to China that Harris has organized. She says it was the best yet.
"The quality of the speakers was exceptional," says Harris, an assistant professor of marketing. "It was virtually a Who's Who in American global leadership."
During the 11-day trip, the group - all of whom are working professionals as well as part-time students - toured Beijing, Guangzhou, and Hong Kong.
They met executives and visited the offices and factories of a number of multinational companies, including the GE Medical Systems plant, ING Investment Management for Asia Pacific, and Proctor and Gamble's Huang Pu plant.
The group also toured the Yantian International Container terminals in Shenzhen, the fourth largest container terminal in the world.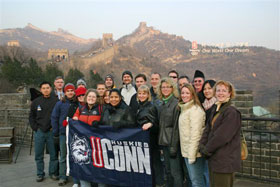 UConn MBA students visit China's Great Wall during a study trip in November.
Photo supplied by Tim Dowding
"The Yantian terminals gave us a great overview of business," says Dowding, an associate professor and director of the Connecticut Information and Technology Institute (CITI) at UConn-Stamford.
"We touched on marketing, finance, logistics, supply chains, international management."
The students also visited Chen Li Ji Pharmaceuticals, a 400-year-old firm that deals entirely in tea-based herbal remedies.
"The Yantian International Container terminals and Chen Li Ji Pharmaceuticals visits provided the class with important examples of Chinese entrepreneurship," says Harris.
John Lentini, who will complete his degree work in June, says the trip was valuable experience.
"The exposure and contacts we made will be great for anybody thinking about going overseas after graduation," says Lentini, who is currently vice president for fixed income derivatives at Credit Suisse in Stamford.
He may be one of those people - he's considering a transfer, and says his company has an excellent policy for employee movement.
Harris has been involved in the business school's global travel studies courses for seven years, starting with more traditional journeys to London and Paris.
Then she decided to make it more challenging. China - which in 2004 saw a 35 percent increase in the number of student visits, according to the Institute of International Education - fit the bill perfectly.