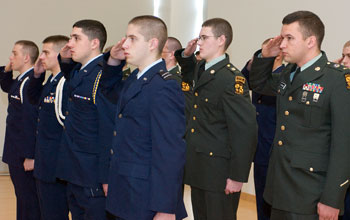 Members of the Army and Air Force ROTC at UConn salute during the Veterans Day ceremony on Nov. 9 in the Student Union Ballroom.
Photo by Jordan Bender
November 13, 2006 ¦ Volume 25, No. 12
PUBLICATION NOTICE: The Advance will not be published November 20 owing to the Thanksgiving break. The next issue will be published on Tuesday, November 28. Happy Thanksgiving!

Speaker explores ethical issues in stem cell research
Research involving human stem cells may one day help cure conditions such as Parkinson's disease, but experiments that transplant human stem cells into prenatal nonhumans pose serious ethical concerns, according to ethicist Cynthia Cohen. Read more...
Study: Low health literacy takes financial toll on state
Fifteen percent of Connecticut residents have low health literacy, and it is costing the state more than six billion dollars a year in additional health care expenses, according to a new report by the University's graduate program in public health. Read more...
Crop of new books published by liberal arts and sciences faculty
Pride of authorship is running high in the College of Liberal Arts and Sciences these days. So many psychology and political science faculty have new books coming out that the UConn Co-op arranged group signings for them. Read more...
Neag's gift to help Health Center offer new cancer treatment
Thanks to a gift of $2.5 million from Carole and Ray Neag, the UConn Health Center is scheduled to offer a revolutionary new cancer treatment. Read more...
More headlines...