Orphaned at age five, Micheline Slattery became a slave in her native Haiti.
Nine years later she continued her servitude - in Connecticut.
Calling herself a "victim of international trafficking," Slattery recently told her tale during a Nov. 3 conference on "Human Trafficking and Modern-Day Slavery" at the Greater Hartford Campus.
Nearly 300 people, many of them social workers, attended the event, which was sponsored by the School of Social Work's Center for International Social Work Studies.
In an emotional keynote speech, punctuated by tears, Slattery, now 29, recounted how her aunt and uncle took her in, but instead of caring for her made her a child slave, looking after a family of 12.
Her days began before dawn, when she made the first of many trips to fetch water.
If she let the water supply run low or couldn't finish her other chores, she said, her uncle beat her with a flexible rope or made her kneel in the hot sun for hours on a cheese grater.
Washing laundry was her favorite part of the day, when she had time to think about her parents and dream of being rescued.
She was rescued for a few years, by a cousin who pampered her and sent her to a private school.
But that changed when the cousin became pregnant and pushed her aside.
The cousin turned out to be a trafficker who arranged false papers for people, including Slattery, whom she sent to America in the early 1990s.
"She told me I was going to meet my brother and sister in Connecticut, but she sold me to a[nother] cousin for $2,500," Slattery said.
The cousin lived in Darien, but Slattery did not participate in the upscale Fairfield County lifestyle.
She went to Brien McMahon High School in Norwalk, but not before rising at 4 a.m. to make breakfast, get her cousin's children ready for school, clean, and do laundry.
She was constantly late to school. When the principal called to find out why, the cousin told him, "She's just lazy."
Her feelings of helplessness became so overwhelming, she said, she tried twice to take her own life.
When she was 18, Slattery summoned up the courage to run away, and has since carved out a life and a career.
She now works as a nurse near Boston, and began speaking out about her experience several years ago, on the advice of a therapist.
"All my life, the people who should have loved me only abused me and exploited me," she said.
Yet when asked whether she has pressed charges against her relatives, Slattery replied, "I chose not to . I'm a Christian, and my faith tells me maybe God allowed this to happen for a reason - to tell other people."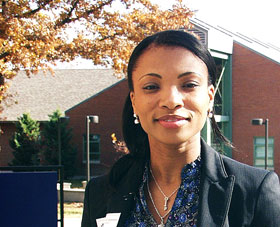 Micheline Slattery, a former child slave, gave the keynote address at a conference on modern-day slavery at the School of Social Work on Nov. 3.
Photo by Thomas Felke
Before Slattery's speech, Lynn Healy, director of the Center for International Social Work Studies, cited a recent raid on a Vernon massage parlor with a "strong indication it involved human trafficking," and similar raids in other Connecticut towns, noting the "connection between these issues and global events."
Rob Morris, president of Justice for Children International, said between one million and two million children are sold into the sex trade every year, including 16,000 to 21,000 in the U.S.
"Something like 25 percent of overseas sex trade tourists are American men," he added.
Conference panelist Jane Rudd, a cultural anthropologist, provided an international perspective on human trafficking.
Although press attention tends to focus on the sex trade, which often involves physical or sexual abuse, a great deal of human trafficking has to do with farm, construction, and sweatshop workers, who are duped into traveling for what they think are legitimate jobs.
"When [the laborers] arrive, their papers are taken away and they're often locked up," she said.
Rudd urged conference participants to support changes in U.S. immigration law to allow more immigrants to come into the country and work for equitable wages.
Six years ago, the U.S. Congress passed the Victims of Trafficking and Violence Protection Act (VTVPA), which established an interagency task force to monitor and combat trafficking and offer protection and assistance for victims, including medical care and visas.
The stumbling block has been convincing victims to cooperate in prosecutions, Rudd said.
Several states have since introduced their own legislation.
In 2004, the Connecticut General Assembly set up an Interagency Task Force on Trafficking in Persons.
Earlier this year, as a result of the task force's work, the state legislature passed an act establishing trafficking in people as a class B felony.
"We need to figure out how to get to victims," said Natasha Pierre, associate legislative analyst for the Connecticut Permanent Commission on the Status of Women.
"Keep your eyes and ears open," Pierre told conference participants, "and reach out to help."