Pride of authorship is running high in the College of Liberal Arts and Sciences these days.
So many psychology and political science faculty have new books coming out that the UConn Co-op arranged group signings for them.
"The number of these contributions, as well as their diversity, is remarkable," says Professor Charles Lowe, head of the psychology department.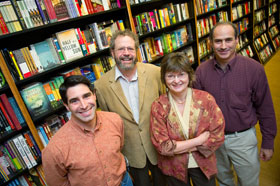 From left, psychology professors Peter Snyder, David Kenny, Mary Crawford, and John Dovidio, at the UConn Co-op. Each has a new book being published, and the Co-op arranged a group signing for them.
Photo by Daniel Buttrey
The four psychology professors, all of whom are senior faculty, are already established authors.
As of 2005, their scholarly publications had been cited more than 15,000 times, Lowe says.
"Each of their books published in 2006 promises to make a substantial contribution to the field of psychology," he adds.
Mary Crawford, professor of social psychology, has written a new textbook, Transformations: Women, Gender, and Psychology.
She is the sole author, and it is not her first textbook.
"I'm a repeat offender," she told a Co-op audience during the book signing.
"I like writing for students."
Peter Snyder, professor of clinical psychology, published Clinical Neuropsychology: A Pocket Handbook for Assessment, Second Edition.
When he worked with patients in hospitals, he said, he noticed that every other specialty had a little pocket handbook for the advanced students in clinical practice.
These "cheat sheets" helped the students make quick decisions on the floor.
Snyder published a pocket handbook for neuropsychologists in 1998, geared to advanced students practicing in hospitals.
It was so heavy, at 674 pages and more than 14 ounces, that people told him they needed a counterweight in their opposite pocket.
The second edition, with 769 pages and weighing more than a pound, may provide it.
John Dovidio, professor of social psychology, is the lead author of a new book, The Social Psychology of Prosocial Behavior.
It stems from research showing that helping is embedded in human nature, he said.
People help each other in emergencies or by volunteering, even when they know they will never again meet the person they are helping, he noted.
"Helping is a prevalent part of human life."
David Kenny, Board of Trustees Distinguished Professor of Psychology and recently named Distinguished Alumni Professor, is the lead author of Dyadic Data Analysis.
It will be a valuable resource for researchers studying dyadic interactions in the social sciences as well as psychology, according to Lowe.
Dyadic behavior is social behavior that involves two people.
The new books in political science "reflect longstanding research projects by three highly talented young colleagues, all of whom have published with excellent university presses," says Professor Howard Reiter, head of the political science department.
"They demonstrate the breadth of what political scientists do."
The new authors in political science are assistant professors Shareen Hertel ( Unexpected Power: Conflict and Change Among Transnational Activist ); Virginia Hettinger (Judging on a Collegial Court: Influences on Federal Appellate Decision-Making); and Evelyn Simien (Black Feminist Voices in Politics).
Their books cover topics that affect ordinary people, says Reiter, ranging from how people pursue their rights in broad social movements, to how judges make decisions that affect our lives, to how African-American women negotiate the overlap between race and gender.