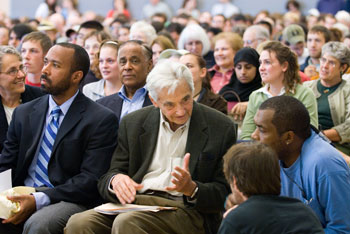 Howard Zinn, historian and political scientist, center, speaks with students before his talk at the Student Union Ballroom on Sept. 26. In addition to students, many faculty attended, including, front row, history professor Jeffrey Ogbar, director of African American studies, and second row, sociology professor Kathryn Ratcliff, left, and history professor Roger Buckley, director of Asian American studies.
Photo by Peter Morenus
October 2 , 2006 ¦ Volume 25, No. 6

Stem Cell building may be purchased
The University is exploring the purchase of a 113,000 square-foot building located on a 29 acre site adjacent to the Health Center for stem cell and other research space.
Business school enters Wall Street Journal rankings
The University of Connecticut School of Business has made it into the annual rankings of business schools by the Wall Street Journal. The ranking places UConn in the top four percent of business schools worldwide.
Philip E. Austin - 10 Years As President
When President Philip E. Austin joined the University in October 1996, the UConn 2000 program was in its infancy, private fund-raising was still limited, and the Health Center operated independently from the Storrs-based programs.

Americans should scrutinize government actions, says Zinn
If we lived in a culture that really taught history, Americans would be less vulnerable to government deception. That's the view of historian and political activist Howard Zinn, who spoke at Storrs on Sept. 26.
Trustees act on academic issues
The Board of Trustees last week took a number of actions affecting the University's academic programs, including appointing faculty members to endowed chairs, creating a Department of Extension, and creating a new Center for Behavioral Education and Research within the Neag School.
More headlines...