Students describe Kate Brown as someone who is easy to talk to, a great resource, and a friend. They also say she makes their experience at UConn "the best it can be."
So it's not surprising that Brown, who has been advising students in family studies for the past four years, has won an award for her efforts.
She received the National Academic Advising Association's 2006 Academic Advising Excellence Award for the state of Connecticut.
With more than 550 students in the program, Brown's calendar is usually packed with appointments. That's exactly how she likes it.
"I love my work," says Brown, who counsels students on everything from plans of study and dropping classes to Study Abroad options and life skills.
"The students know that I'm here for them. I find that gratifying."
Sometimes students will e-mail Brown; other times they'll stop by or have an appointment to chat.
"I'm always there to listen and help," says Brown, who earned a master's degree in sociology from UConn in 2002.
Students say that Brown has made important contributions to their lives.
"Kate has helped me tremendously," says Christen Lynch, a sophomore.
"Whether it's a problem about a class or schedule and you're stressed out, she goes through the problem step by step. When you leave her office, you feel better."
Lynch, who will take part in a Study Abroad program in Australia next semester, says Brown was "very helpful" with the paperwork, and also wrote her a recommendation.
"She has a personal relationship with you," says Lynch
. "It's amazing for someone who has so many students to deal with to get to know them on a personal level."
Sophomore Becky Jones finds Brown "easy to communicate with. I like the fact that she talks to me at an adult level," Jones says.
"She tries to make my experience on campus the best it can be, always looking ahead. Then I know I'm on track."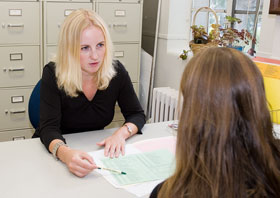 Kate Brown advises a student majoring in human development and family studies. Brown received an award from the National Academic Advising Association earlier this year.
Photo by Stephanie Gagliardi
Miller, who is the mentor in Brown's FYE class for family studies majors, adds, "She has helped and encouraged me with many things, even if it wasn't class-related."
Brown says her goal is to help students be successful through their undergraduate years.
"If they're looking to drop a class, I tell them what their options are," she says.
"If they need help in a certain area, I point them to resources like the Writing Center or the Tutoring Center."
She says she sees a lot of juniors. "At the junior level, they're really getting into their majors, or questioning whether it's the right major for them," she says.
"As juniors they also have more opportunities, like internships. So we try to figure out what they should be doing and how to gear themselves up for their careers."
Freshmen have other issues to discuss, Brown says.
"Many freshmen are overwhelmed by the possibilities and opportunities at the University," she says.
"I advise them to think about what they'd like to concentrate on, and not spread themselves too thin - pick what you're passionate about."
It's easy for freshmen to fall into the routine of going home on the weekends, Brown says.
"I try to get them to stay here during the weekends and become involved," she says.
"Be part of the UConn culture. Be part of the UConn community. Take advantage of everything you can be doing here on campus, and of all the different people you can meet."
She advises all students to work hard at their studies, but to enjoy their four years here, "because the time goes quickly."