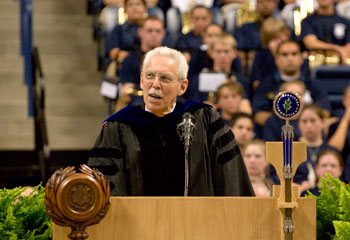 Michael Turvey, Board of Trustees Distinguished Professor of Psychology, addresses students during the Convocation ceremony for new students and their families held at Gampel Pavilion on Aug. 25.
Photo by Peter Morenus
September 5 , 2006 ¦ Volume 25, No. 2

Turvey urges freshmen to study long and hard
The college journey is a matter of acquiring skills, psychology professor Michael Turvey told new students during Convocation in the Harry A. Gampel Pavilion Aug. 25."This is your most important, immediate task," he said.
Anderson to head research, graduate education
Gregory Anderson, who headed the Department of Ecology and Evolutionary Biology for 15 years, has been appointed to a two-year term as vice provost for research and graduate education and dean of the graduate school.
Nobel Prize-winner to give Katzenstein physics lecture
The physics department's 2006 Katzenstein Distinguished Lecture on Sept. 15 will again feature a Nobel Prize-winning physicist: Wolfgang Ketterle, who shared the 2001 Nobel Prize in physics for creating Bose-Einstein condensation (BEC).
Town festivities scheduled for Sept. 16-17
A weekend of events is scheduled for Sept. 16-17 to celebrate the future development of Storrs Center.
More headlines...