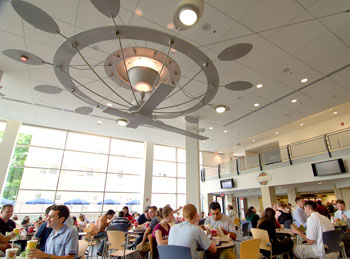 Out to lunch

. A view of the new food court at the renovated Student Union.
Photo by Peter Morenus
August 28 , 2006 ¦ Volume 25, No. 1

Freshman class continues upward trend
For the 11th consecutive year, UConn's entering class exhibits the academic success that has made UConn the top public university in New England and among the best public universities in the nation.
New Student Union, football facility, now open for business
Students returning to the Storrs campus this weekend should notice a few changes since they left campus in May. The Student Union, after four years of renovations, additions, and new construction, reopened Aug. 21.
New system keeps out spam
Technicians from University Information Technology Services (UITS) this summer installed three spam firewall devices on the University network, and already the reduction in spam has been nothing short of extraordinary.
New director named for Benton Museum
Steven Kern, curator of European art at the San Diego Museum of Art for the past nine years, assumed his new post at UConn during the summer.
More headlines...