Summer internships are a staple of the college experience for undergraduates, but a newer addition to the resume of some UConn students is a summer research project.
"It's very telling to me that we're getting a huge increase in demand," said Jennifer Lease Butts, director of the Office of Undergraduate Research, which administers the Summer Undergraduate Research Fund.
Applications increased 40 percent this year to 100, and 44 summer research grants were awarded.
Research is an opportunity for students to focus on a particular area of their major. It gives them the independence to pursue a subject that excites them, and it can suggest career opportunities they may not otherwise have considered.
"It's really kind of opened up my college experience a lot," said Stephen Ferketic, a political science and biology major in the College of Liberal Arts and Sciences.
"I'm not just taking classes any more, I'm putting things into action."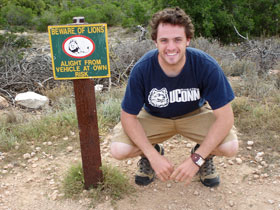 Undergraduate Stephen Ferketic conducted research in South Africa.
Photos supplied by Stephen Ferketic
Ferketic, a junior in the Honors Program, extended a sophomore study abroad and internship semester in Cape Town, South Africa, to a summer research project in the nearby Macassar Dunes.
He wanted to explore a concept that his advisor, ecology and evolutionary biology professor John Silander Jr., calls "conservation justice."
The dunes, a narrow strip on the coastline 15 miles from Cape Town, are being encroached upon by the squatter shacks of one of the biggest, most poverty-ridden townships, Khayelitsha.
A movement to protect the dunes by designating them a conservation area has raised political and social issues that intrigue Ferketic, who completed his research there in June.
He interviewed 83 people, including city and conservation officials and people in the communities surrounding the dunes.
The dunes are a spectacular sight, he said. They are part of the Cape Floristic region, which has been documented by Silander and his research group as one of the most biologically diverse areas of the world, with rare and endangered species of plants.
A conservation area could bring in tourism and build the local economy, Ferketic said. But he found that some residents of the area would rather have a school or use the dunes for grazing.
Ferketic is considering a career in international or environmental law. He says his summer research showed him firsthand what Professor Silander had talked about in class - that conservation issues, often thought to be an interest of the well-to-do, concern people living in poverty, too.
Research broadens students' opportunities to collaborate with faculty and explore new areas, says Ross MacKinnon, dean of liberal arts and sciences, which helps to support the Summer Undergraduate Research Fund awards.
"They learn skills they will use throughout life, and they gain confidence in their ability to use what they have learned to contribute to society and the advancement of knowledge," he says.
This summer, 27 liberal arts and sciences students conducted projects with funding from the Summer Undergraduate Research Fund.
To obtain a stipend of up to $3,000 to support their research for 10 weeks, the students must write a research proposal that is reviewed by faculty in a competitive process.
Anu Nellissery, a physiology and neurobiology major from Simsbury who is a sophomore this fall, received a stipend to study in the laboratory of Robert Birge, the Harold S. Schwenk Distinguished Professor of Chemistry.
During the summer, she contributed to research on a protein found in the membranes of bacteria that are among the oldest life forms on earth, studying the protein's response to a laser pulse.
Birge's research group is investigating proteins that might be genetically engineered to make protein-based devices, such as sensors for airborne chemicals, or that might be used to convert sunlight to an electrical current.
Getting experience in the lab is becoming almost a requirement for science students who want to go to graduate school, says Birge.
"Certainly the good graduate schools look at undergraduate research as an important component, and they expect at least one letter of recommendation from an undergraduate research adviser," he says.
The experience of applying for a research grant helps undergraduates, too, he adds. "For a young undergraduate to write a proposal and get it funded is wonderful."
Jeffrey Griffin, an English major with a concentration in Irish literature, conducted field research in Ireland during the summer break.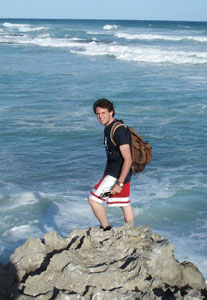 Working under the guidance of adviser Mary Burke, an assistant professor of English, Griffin examined the effect of Ireland's recent economic boom on its strong literary tradition.
He focused on writer Edna O'Brien, studying first-draft copies of her novels in the National Library of Ireland.
He traveled to O'Brien's home in County Clare, and visited parts of Belfast that were at the center of strife in the Northern Ireland conflict.
Griffin, who is from Cheshire, is a University Scholar - an academic honor and a designation that gives students the flexibility to conduct in-depth study in a particular area.
He hopes eventually to enroll in law school and use a study-abroad option there to continue his immersion in Irish culture.
Interest in undergraduate research is growing during the school year as well as during the summer.
More than 400 undergraduate psychology majors, for example, have worked as part of a research team with a faculty member and graduate students during the past two years, double the number that were involved six years ago.
"People are realizing that it's one of the things UConn is great for - it's a research university," says Ferketic, the student who conducted summer research in South Africa. "If you don't do it, you're really missing out."