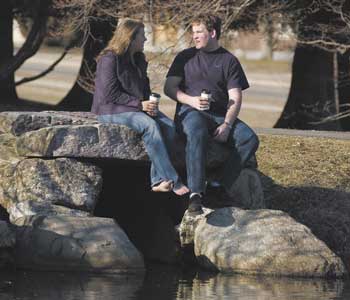 Whitney Peterson, left, and Jesse McCormick drink coffee in the sunshine, while sitting on a rock beside Mirror Lake.
Photo by Peter Morenus
April 24, 2006 ¦ Volume 24, No. 29
PUBLICATION NOTICE: The next Advance, published on May 1, will be the last issue of the semester. Summer issues will be published on May 15 and May 30, and monthly in June and July, before weekly publication resumes at the start of the new academic year.

Former students given chance to complete degree
UConn's Class of 1991 will have a representative at the University's May 7 undergraduate commencement who won't be sitting with the crowd.
Student website offers dialogue with administrator
Students are using the University's student webpage in record numbers to check everything from the events calendar and dining hall menus to weather reports and national news.
Class of '56 creates endownment to support University archives
As the University of Connecticut celebrates its 125th anniversary this year, the Class of 1956 has chosen for its 50th reunion gift campaign a project with historical significance.
E-portfolio system to be launched: training session April 28
Members of UConn's e-portfolio steering committee and implementation and training teams on April 28 will give faculty and staff an overview of a new, ready-to-use e-portfolio system.
More headlines...