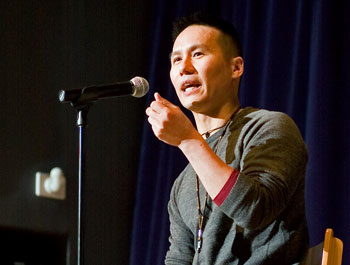 Actor, activist, and author B.D. Wong talks about his life and career March 20 at the Student Union Theatre.
Photo by Jordan Bender
March 27, 2006 ¦ Volume 24, No. 25

Task force planning for global education
A task force on global education has been appointed by Provost Peter J. Nicholls, who identified three main goals for undergraduate students: individualized experiences; engaged learning; and developing as global citizens.
Consumers learn health care savvy at 'Patient School'
The Health Center is offering a "patient school" program to help health care consumers advocate for themselves, their children, and their aging parents. The program is the first in the country.
Actor B.D. Wong describes struggle with racial identity
When B.D. Wong was a youngster, he knew he wanted to be an actor. But there were no role models for the boy whose favorite pastimes were watching television and going to the movies.
Budget issues won't hinder anthropology majors
The dean of the College of Liberal Arts and Sciences said a decision that requires the anthropology department to operate within its budget will not cause anthropology majors to fall short of course requirements needed for graduation.
More headlines...