When Fulvio Orsitto lectured recently on reconstruction in postwar Italy, he showed his class the 1948 Italian film The Bicycle Thief. Another day, during a discussion about Italy's economic boom, the students listened to the song "Volare" and saw a clip from the 1954 film An American in Rome.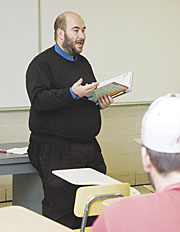 Fulvio Orsitto, a teaching assistant in modern and classical languages, earned an award from the Institute for Teaching and Learning.
Photo by Melissa Arbo
"I try to give students as many visuals as I can," says Orsitto, a teaching assistant in Italian, whose specialties are contemporary Italian literature and film studies. "It's one thing to talk about reconstruction or the economic boom, but to see films, slides, and photos of bridges that were destroyed, houses that were bombed, or a shiny new car in a factory – that brings the situation to life."
Orsitto earned the 2005 Outstanding Teaching Assistant Award from the Institute of Teaching and Learning.
Orsitto, who teaches language, cinema, and culture courses, says he includes "as much culture as I can" in all his classes.
"Sometimes we listen to songs, because it is a very good exercise in listening and comprehension," he says. "In a language class, if the textbook deals with libraries or bookstores, I give them a piece of literature so they start getting acquainted with that. If the textbook talks about movies, we watch a little piece of Life is Beautiful or some other Italian classic film. I try to give students a little taste of what it would be like to continue in Italian."
He is always in search of new ways to use technology that will help students learn the language. Among other assignments in conversation classes, he has students converse online in Italian during the weekends using Instant Messenger.
"Students print out their conversations and I correct them," he says. "This allows the more reserved students to contribute to the overall weekly discussion, while practicing their written skills."
His students appreciate his teaching methods.
"His energy and excitement and inclusion of current events, art, music, and film give a 360 degree view of the subject, as opposed to just reading from a book," says Caitlin Williams, a fifth-semester Italian major who has taken four courses with Orsitto. "Fulvio is the most dedicated TA or professor I have worked with at UConn."
Williams, president of the Italian Club, says Orsitto has been "instrumental" in the growth of the club.
Rosanne Pelletier, a continuing education student in Orsitto's course on "Italy Today," says, "The fact that Fulvio specializes in literature and film does not prevent him from being able to answer any question we bring his way – for example on history or politics.
"Also, in conveying his knowledge of these topics, all the students benefit from his masterful use of media," says Pelletier, who has a Ph.D. in linguistics. "But most of all, when you add together his knowledge, experience, skill, and enthusiasm, you somehow have to conclude that Fulvio is no less than a 'force' in the classroom."
Born in Turin, Italy, Orsitto was educated abroad and came to UConn in 2001. He is now working on his Ph.D.
One day, students in his "Italy Today" course, which is taught in Italian, compared terrorism in Italy during the 1970s and the activities of partisans during the 1940s. Throughout the lesson, Orsitto kept the discussion moving, peppering it with film clips, video projections on the Web, and a variety of articles.
Calling each student by name, he asked questions and encouraged them to voice their opinions.
"I want them to think critically and converse on philosophical matters," he says.
He had brought in an article that had just been published in la Repubblica, Italy's top newspaper, about a student protest against new laws that regulate universities in Italy. "The article mentioned that the students were singing Contessa, a song I had my students listen to during another class," Orsitto says.
"I pointed out that even nowadays, people are singing Contessa. I try to make links to show my students that things don't just come out of the blue."
Norma Bouchard, associate professor and head of the Department of Modern and Classical Languages, says Orsitto is "the most versatile of teachers" and brings to his students a "dynamic yet rigorous teaching style that involves everyone in the learning process."
What does Orsitto hope his students take away from his classes? "Enthusiasm," he says. "I'd like them to be ambassadors of Italian culture, as I consider myself.
"Every time I am told that one of my students has decided to major or minor in Italian, I think it's great. When students travel to Italy, they usually come to my office afterward and say, 'Fulvio, you wouldn't believe it, I've been to this place and that city, and you were right.' I like that they're excited to share their experiences."