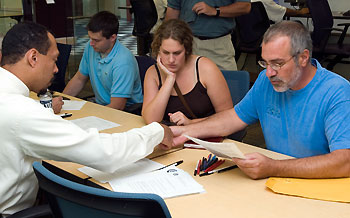 Bob Hopson, left, an admissions officer, speaks with Sarah Welinsky from Tulane University and her father, Gary, during an admissions session for students affected by Hurricane Katrina.
Photo by Peter Morenus
September 12, 2005 ¦ Volume 24, No. 3
Community rallies to help New Orleans area students
The UConn community has welcomed 40 students from Connecticut who attend five New Orleans-area colleges and universities affected by Hurricane Katrina. Up to 15 more were expected to enroll by the end of the day on Friday.
Study offers new insights on biodiversity in South Africa
Two UConn ecologists are challenging the common perception that tropical rain forests are the most biologically diverse regions on the planet.
New dean of students reaches out to students, campus community
It didn't take long for UConn's new dean of students to decide what would be the most important part of her job. It was right on her door.
Strategies to improve information literacy skills discussed
Undergraduates are intelligent and curious, and have a remarkable facility with communication technology, says Scott Kennedy, director of research and information services for University Libraries. What they don't have is experience with the world of scholarly information.
More headlines...