Two UConn ecologists are challenging the common perception that tropical rain forests are the most biologically diverse regions on the planet.
John Silander Jr., a professor of ecology and evolutionary biology, and doctoral student Andrew Latimer say the scenic, wildflower-covered hills of the Cape Floristic Region of South Africa contain as much plant diversity as many of the world's tropical rain forests.
The patterns of diversity in this South African region, however, differ fundamentally from the more familiar diversity patterns of the Amazon.
Their findings were published in the Sept. 9 issue of the journal Science. [Go to the Science article]
The researchers also suggest that some biodiversity hot spots may be more vulnerable to the effects of climate change and global warming than others and may require their own specially-tailored conservation strategies.
"When people think of the world's biodiversity hot spots, or areas with extremely high concentrations of different species, they tend to picture tropical rain forests like the Amazon," says Latimer, the article's lead author. "Our study shows that the Cape Floristic Region of South Africa as a whole is just as rich and diverse as a similarly-sized piece of the Amazon, but an ecological tour through that region would look completely different.
Latimer says in the Amazon, "there are a staggering number of different tree species in close proximity to each other, but a number of those species keep reappearing" throughout the region.
By contrast, in South Africa's Cape Floristic Region, there are a series of small, Mediterranean-climate communities known as fynbos shrub lands, he says. "Those mini-shrub lands, which are separated from each other by drier lowland areas, each essentially contain a unique set of plants. Plants found in one area in abundance may be scarce or not present at all in the next area."
Latimer and Silander attribute the different diversity pattern found in the Cape Floristic Region of South Africa to seed dispersal rates that are about 100 times lower than in the Amazon. In the fynbos shrub lands, they note, many plant seeds are carried by ants, which don't travel more than a few miles, as opposed to birds and large mammals which typically disperse seeds widely in the Amazon.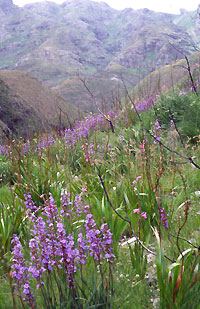 Photo supplied by John Silander
Additionally, the rate at which new species emerge in this South African region appears to be higher than in tropical rain forests such as the Amazon, the researchers found.
"This study is significant because it shows that the plants unique to this South African region are extremely isolated and, as such, are exceptionally vulnerable to climate changes and the effects of global warming," says Silander, who has conducted research in the Cape Floristic Region since 1999. He was recently awarded an $850,000 collaborative National Science Foundation grant to work with colleagues at Duke University and in South Africa to develop a statistical model to predict the effects of climate change on the region's unique plants, including different species of protea flowers, many of which are threatened with extinction.
"Our findings underscore the need for targeted, specialized conservation strategies for the world's various biodiversity hot spots," he said. "For instance, the Cape Floristic region may be better served by more, smaller reserves than by the fewer, larger protected areas that are well-suited to the Amazon."
The Cape Floristic Region, located at the southern tip of the African continent, is designated as a biodiversity hot spot and UNESCO World Heritage site. Roughly the size of Maine, it contains about 9,000 different plant species in total and has the highest density of plant species in the world.
For this study, Latimer and Silander used a mathematical theory known as natural ecological theory, developed by a professor at the University of Georgia, Stephen Hubbell, to analyze plant data assembled by their research partner Professor Richard Cowling at Nelson Mandela Metropolitan University in Port Elizabeth, South Africa.