Class Rep To Study Art Restoration In Italy
By Sherry Fisher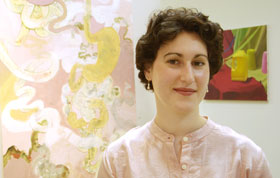 Carla Hill
Photo by Dollie Harvey
Carla Hill packed her bags a number of times during her four years at UConn – but she wasn't heading home: Her studies have taken her to several different countries, including England, Germany, and Italy.
Hill, an art and art history major with a minor in history, says being a Nutmeg Scholar gave her the flexibility to do that.
"The money I saved with the scholarship enabled me to study abroad and travel," she says. "It's been great."
She graduated from Cheshire High School in 2001 as salutatorian of her class.
This year, Hill, who has a 4.0 GPA at UConn, is one of two senior class representatives. She will deliver remarks to the graduating class during the morning Commencement ceremonies on May 8.
The summer after her freshman year, she went to Germany to study the language. Getting to know the family she lived with was "the best part of the trip," she says. She and the family are still in touch.
She spent the spring of 2004 studying in Florence, Italy, where she studied the history, language, art history, and literature of the country.
"I love studying abroad and made wonderful friends," she says.
Hill hopes to return to Florence in January to attend a three-year program on art restoration at the Istituto Per L'arte E Il Restauro.
Hill, a member of Phi Beta Kappa, says she enjoyed being in the Honors Program because it "brought the size of the University down to a small liberal arts school."
For her University Scholar project Hill has written a novella about a painting that was stolen during World War II in Florence and discovered in modern times.
The project "ties together all my interests," she says. "I saw the writing as a way of presenting my research. I've always been interested in historical fiction, and it seemed like something I could do, because so much is based on fact."
Hill and her mother have been volunteer ushers at Hartford Stage Company for the past five years. She has also been a volunteer intern at the William Benton Museum of Art and at the Connecticut Historical Society in Hartford.