Dental Student To Become Oral Surgeon
By Jane Shaskan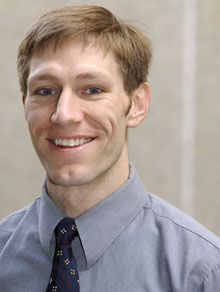 Aaron Liddell
Photo by Janine Gelineau
Aaron Liddell has taken the lessons he learned as a cyclist, mountain climber, and skier into the world of academics: Going the distance requires hard work and perseverance.
Liddell, who graduates this month with a Doctor of Dental Medicine degree, will deliver remarks during the Commencement ceremony at the Health Center on May 15.
Liddell grew up in Utah, and spent his teen years involved in extreme sports. He raced in many regional, national and world cup cycling competitions, including the 1995 Mountain Bike World Championships in Vail, Colo.
But after a two-year stay in New Zealand helping the poor, his priorities changed. "I found that I was happiest helping others," he says. "I also wanted a wife and family in my future and extreme sports didn't fit in well with that."
Liddell knew that he would eventually be a dentist: his grandfather, father, brother and two uncles practice dentistry. He decided to become an oral surgeon after taking a trip to Peru's Amazon River Basin during his third year of dental school.
"It was amazing to see the life-altering effect of even the simplest dental procedure or oral surgery," he says, "seeing the difference you can make in someone's life with anesthesia and forceps."
As a student, Liddell was involved in research on craniofacial morphogenesis. He was honored with the ADA/Dentsply Student Clinical Award for "outstanding research presentation." He participated in many volunteer activities and is a member of several dental associations.
He married his hometown sweetheart and is the father of a 15-month-old boy. Another baby is due in September. He now looks ahead to six years of training to earn a medical degree and certificate in oral and maxillofacial surgery at the University of Texas Health Science Center in San Antonio.
Liddell's plans include opening a practice in Utah. "I want my children to experience the same kind of wholesome, outdoor childhood I had," he says. "It was during my teenage years that I learned that with commitment and hard work, most things are achievable."