Triple Major Also Student Leader, Mentor
By Sherry Fisher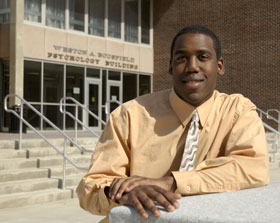 James Davenport
Photo by Dollie Harvey
James Davenport packs a lot into his day, but that's the way he likes it. He has a triple major – sociology, psychology, and women's studies – and he's an orientation leader, a mentor, and an officer in student organizations.
"I love to keep busy," says Davenport, who describes himself as "motivated and blessed."
A graduate of Wilby High School in Waterbury, Davenport was accepted into Yale with a full scholarship, but declined the offer. "UConn was my top choice," he says.
Davenport started his academic career with the notion that he'd go to medical school, but realized his heart wasn't in it. "I loved science and helping people, and was doing well in my courses," he says, "but I realized I didn't want to be a surgeon."
After taking an introductory course in women's studies with Professor Anne D'Alleva, he knew he wanted to major in it. "I was one of only three guys in the class, but she encouraged us to speak up," he says.
Davenport's girlfriend, now his fiancée, was a sociology major, and he found himself reading her books. The material appealed to him and overlapped with some of his women's studies courses. "I was familiar with much of the subject matter and I thought I might want to be a social worker, so I decided to major in sociology as well," he says.
He decided to major in psychology after taking a few courses with a friend. He also conducted research with Michelle Williams, an associate professor of psychology who is his advisor.
Davenport says what he has enjoyed most about UConn are "the connections and the friends" he has made here. "I love the atmosphere and the people," he says.
He has been a student organization leader for the Black Students Association, and is former treasurer of the UConn chapter of the NAACP. He has also been a member of the Voices of Freedom Gospel Choir since his freshman year, serving as secretary, treasurer, and executive board member.
Davenport has spent the last four years working at the African American Cultural Center. During the past two years, he has been mentoring first-year African American students.
His future plans include pursuing a master's degree in social work and a doctorate in clinical psychology.