Expert Offers Tips on Building Ponds
At Annual Gardening Conference
By Sherry Fisher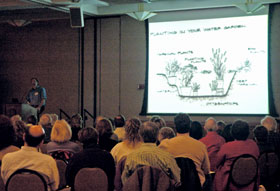 Matt Horn, owner of Matterhorn Nursery, gives a presentation on pond construction at a gardening conference in Rome Ballroom on March 8.
Photo by Melissa Arbo
Create a pond as large as you can afford, Matt Horn told the audience at a conference for garden enthusiasts.
Owner of Matterhorn Nursery in Spring Valley, N.Y., Horn discussed the design, construction, and maintenance of ponds, showcasing a variety of sizes and designs in a slide presentation. He spoke March 8 in the Rome Commons Ballroom.
Nearly 400 people attended the conference, which was sponsored by the plant science department's ornamental plant extension team.
When building a pond, "all you're trying to do is mimic nature," said Horn, advising the audience to look at the natural world.
He said the principles of a large pond are the same as a small one.
"A great place to start to understand the ecosystem of a pond is a tub garden. They don't need to be very big. You can balance the contents of a tub garden and the water will be crystal clear."
Horn said gardeners always ask, "What type of pond do I build, formal or informal? How big should I make it?" His response, he said, is that gardeners should make the pond as large as they can afford.
Most of the cost of a pond is labor, he said. "It's about 90 percent of the cost. Building a pond is not as simple as it seems. You have large rocks delivered, you have to rent a machine. It's more involved than just buying liner and a few rocks."
There are also safety issues, he said. "Ponds have to be safe. We always put concrete collars around them. There is a tremendous amount of labor involved in building a pond correctly that is going to last."
Some of the ponds Horn discussed had waterfalls, hot tubs, fountains, and swimming pools.
Horn advised the audience to avoid the "necklace effect" – rimming the edge of the pond with a single ribbon of stone.
Showing a slide of a pond, he said, "This is one of the finest examples of a pond with the exception of the necklace effect. Its crystal clear and has all the correct principles in building a pond: Seventy per cent of the water's surface is covered in foliage – that's going to keep the sun out, the algae down, and keep the water clear."
He said the pond has fish in it, although there is no moving water.
Introducing Japanese Koi fish is a "nice way to add wildlife to the garden," Horn said, but they can be extremely expensive.
Horn lectures throughout the U.S. on topics including horticulture, water gardening, and landscape design. He has taught at the New York Botanical Garden and the Cary Arboretum, and frequently appears on the B. Smith With Style television show.
In addition to an aquatic center for water gardeners, Matterhorn Nursery, which sits on 35 acres, includes 10 acres of display gardens. It also houses David Austin Rose Garden of the United States, a three-acre formal garden showcasing David Austin roses. Macy's has chosen the nursery to design and install the Macy's Flower Show. In 2003, Matterhorn Nursery was presented the prestigious "Garden Center Innovator of the Year" Award presented by Garden Center Merchandising and Management magazine.