Englehart Cartoons To Be
Displayed, Archived at UConn
By Scott Brinckerhoff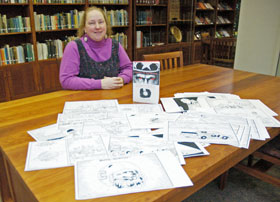 University archivist Betsy Pittman displays Bob Englehart's cartoons in the Reading Room at the Thomas J. Dodd Research Center. The Hartford Courant cartoonist has donated a sample of his work to University Archives.
Photo by Melissa Arbo
Whether you call it parody, satire, or incisive social commentary, the editorial cartoon has been a fixture of American journalism since the earliest days of newspapers. Now, thanks to a gift from artist Bob Englehart, researchers at UConn will be able to admire, critique, or dissect his editorial cartoons from The Hartford Courant.
Two hundred and fifty times a year, for nearly 25 years, Englehart has been giving Hartford Courant readers a piece of his mind in the form of a drawing that says something pithy about a politician, a policy, an event, or perhaps the awesome performance of the Husky basketball teams.
Englehart recently donated more than 30 original drawings to the University's Archives & Special Collections at the Thomas J. Dodd Research Center, and an extensive exhibition of cartoons still in the artist's possession is scheduled for August in Homer Babbidge Library.
The cartoons augment the archives' political, social, and cultural collections. Visitors to the archives can view Englehart's work along with a wide spectrum of other Connecticut history materials, ranging from records of an aerospace workers' union in the 1950's to the papers of Thomas J. Dodd, who participated in the Nuremburg trials and represented Connecticut for many years as a congressman and senator, and for whom the Dodd Center is named.
Englehart says he didn't hesitate when UConn approached him about donating some of his cartoons.
"The Dodd Research Center is a first-rate operation that takes expert care of its collections," he says. "I'm honored to have my cartoons preserved alongside the works of the talented artists they already have."
Betsy Pittman, university archivist, says the collection will complement other political papers at the Dodd Center and will be valuable to researchers.
"Bob Englehart has been in Connecticut for a significant length of time, and many of his cartoons deal with Connecticut issues, so researchers can see not only what senators and representatives were saying about an issue, but how the state's leading newspaper was responding on the editorial page."
An Indiana native, Englehart has received numerous awards for his work, which has been reproduced in diverse publications around the world.
Englehart works mostly out of a sunny studio at his home in Middletown, stopping in at The Courant once a day for several hours. He reads the news avidly, making notes and sketching as he reads. As an idea begins to take shape, he begins to develop it in earnest, using pen and ink or brush and ink, magic markers, or fine line markers on legal size paper.
He then scans his cartoon into a computer and uses Photoshop software to add color and gray tones and fix any imperfections. Then he sends it to the deputy editorial page editor.
"The editor has the right to kill a cartoon or guide its content," Englehart says, "but for the most part we're rarely at odds. I don't take cheap shots or kick people when they're down. I try instead to kick them when they're up. Anyway, if the cartoon is a solid idea, if it can be defended, the paper will run it."
Of course, there have been occasions when readers have reacted negatively to a cartoon, even picketing The Courant.
"When that happens, I say to the editor, 'What possessed you? Why'd you ever run that cartoon?'" he jokes.
Englehart's topics are eclectic, ranging from the weather and his dissatisfaction with it, to politicians who fail to keep campaign promises and are immortalized on the editorial page with Pinocchio noses.
One 1995 panel from the Dodd Center's collection recalls the controversy that erupted when General Mills announced it was going to change Betty Crocker's image to appeal more to multi-ethnic cereal eaters. The cartoon shows executives pondering a politically correct rendering of Betty with the caption, "In other words, if she married Uncle Ben, what would their baby look like?"
Englehart is frequently asked about his politics. He has a ready answer: "moderately confused. I don't like extremes in either direction."
His point of view is sometimes at odds with Courant editorial positions, even those on the same page, illustrating not only freedom of the press, but how skillful an artist needs to be to convey in a few brushstrokes and half a dozen words what it takes an editorial page writer several hundred words to accomplish.
Englehart says he likes all his work and has no clear favorites. "If the house caught fire, I'd try to save them all," he says. But one drawing, published the day after Sept. 11, stands out in his memory.
In contrast to many of his colleagues, who drew images of such American landmarks as the Statue of Liberty weeping, Englehart rendered Uncle Sam with a look of steely resolve and red flames burning angrily in his eyes.