Creamery Teaches Tricks Of Trade
To Would-Be Ice Cream Makers
By David Bauman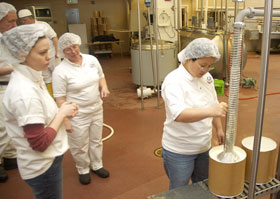 Sun Kim, a graduate student studying animal science, fills three-gallon containers with ice cream. She is watched by other participants in a short course on ice cream-making held during spring break.
Photo by Melissa Arbo
Ice cream lovers in Connecticut who are tired of the selections offered at familiar chains or grocery stores, take heart.
For three days earlier this month, five would-be Connecticut scoopmeisters gathered in Storrs to study with David Dzurec, UConn's guru of frozen desserts.
Dzurec, an associate professor of food processing and creamery operations manager in the Department of Animal Science, designed a once-a-year Ice Cream Short Course for those interested in learning the basics of commercial ice cream manufacturing, from mix processing to finished, packaged products.
"UConn has been making ice cream in the University creamery for more than 100 years," says Dzurec.
"There are a lot of dairy farmers in our state looking for other ways of making money," he adds. "We're an educational institution, so why not have them come here to learn how to make ice cream?"
Not that the course is limited to dairy farmers. There are ice cream-lovers everywhere. The United States leads the world in annual production of ice cream, with 1.6 billion gallons produced in 2003, according to the International Dairy Foods Association. That translates into 23 quarts of ice cream produced per person.
UConn is the only university in New England with an ice cream manufacturing plant and one of just a handful in the country. Penn State, Cornell, Wisconsin, and Michigan State also still have creameries and make ice cream.
Dzurec's short course teaches the making of ice cream from cow to cone.
In morning lectures, students work their way through a 300-page binder-held textbook on subjects ranging from mix calculations, processing, and refrigeration principles, to quality control, sanitation, microbiology, packaging, and labeling. Other hot topics discussed included aesthetics, stabilizers, and low-fat ice creams – they're getting a lot better – and the pricier variety that's capturing more of the market.
Afternoons involve hands-on experience in mix-making and freezing the ice cream. Course participants are required to wear course shirts with a logo, head coverings, and rubber boots – all provided – while working in the creamery.
"There's so much to learn," said Linda Rich of Abington, a course participant who, with her husband, has worked a dairy farm for 30 years. "There is just so much information. This is wonderful."
Rich never imagined she'd end up in the pleasure calories business. But without their seasonal (May through October) ice cream stand, "We-Li-Kit," on Route 97 near Pomfret that her family has had for 15 years, "we wouldn't be milking cows," she said.
Stand patrons – who can now select from 26 flavors – will benefit from the course, she added. "I've learned a lot about texture, consistency and flavor. I've got plans to add more (flavors) to what we offer now."